Oscar-nominee Birdman now on DVD – review
By Alexandra Heilbron on February 17, 2015 | Leave a Comment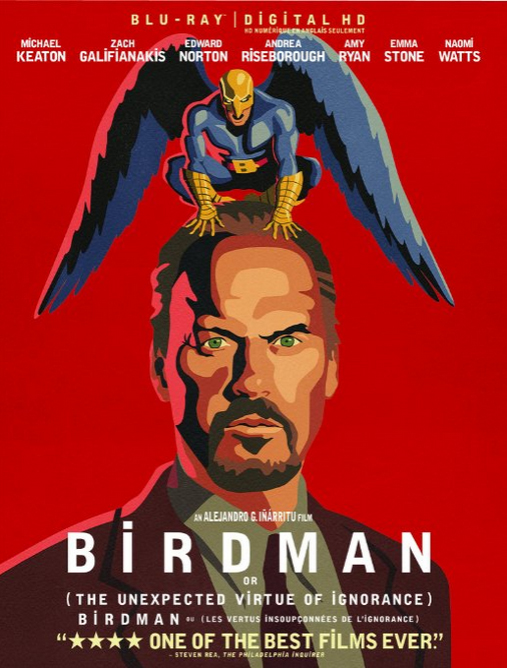 Birdman or (The Unexpected Virtue of Ignorance) has been nominated for nine Academy Awards including Best Picture, and it's easy to see why. There are so many things about this movie that make it unique.
Michael Keaton is perfectly cast in the lead role as Riggan Thomson, an actor who became famous for portraying a superhero called Birdman in three films. When offered the opportunity to reprise the role for a fourth film, he turned it down because he wanted to be known for more than that. He has written a play about love and when the movie begins, he's in rehearsals at the St. James Theatre on Broadway. He's not only starring in his play, but directing as well and days before the first preview, he realizes one of his co-stars is a terrible actor.
I should mention that when we first see Riggan, he's in his dressing room – levitating. Someone off camera is talking to him in a deep voice – it's quite awhile before the audience finds out who the voice belongs to. Other strange things happen, such as a light falls on the untalented co-star's head, which means Riggan needs a replacement actor. He hires Mike (Edward Norton), an eccentric Broadway star who is sure to fill seats with his presence.
If you've ever wondered what it's like to go behind the scenes of a professional play, this gives an accurate portrayal of the ups and downs, fears and worries of actors and directors. What sets this film apart, however, besides the incredible performances by Keaton, Norton and Emma Stone, who plays Riggan's daughter, is the camera work. From the moment the film begins, there are seemingly no edits. The film plays like one long continuous shot, as if the actors rehearsed it until it was flawless and acted the entire movie in the time it took to film, without any breaks – just like a play.
This seamless effect, as well as the special effects such as Riggan flying, are courtesy of the Montreal-based special effects studio Rodeo FX. The edits are very difficult to find and it left me wondering how long the takes for each scene were – in some cases it seemed to half an hour or more, which is no small feat for film actors, who often flub lines. Stage actors don't have that leniency – because they are performing live, everything has to flow from one scene to another without any stopping for retakes. This is one of the reasons Birdman is deserving of the Best Picture Oscar.
The other reason is because the story is fascinating. It's about the frustrations and benefits of mounting a Broadway play. It's about a father who feels he wasn't there for his daughter or wife because he was too invested in his career. It's about a director who has to deal with the wild antics and mood swings of his cast, while worrying that his play will be torn apart by ruthless New York critics.
I should also give a shout out to Zach Galifianakis, who turned in a restrained performance as Riggan's best friend and producer. His performance and appearance were so different from his previous work that he was virtually unrecognizable. Emma Stone, while recognizable, seemed different as well – younger and more enigmatic than in previous performances. Director Alejandro Gonzalez Iñarritu, who's nominated for a Best Director Academy Award, obviously spent a lot of time working with his actors to inspire them to turn in such incredible performances.
The Academy Awards will be held this Sunday, February 22nd and here's hoping this film will get the recognition it deserves. Special features on the DVD and Blu-ray include Birdman: All-Access (an intimate backstage peek with the cast and crew) and A Conversation with Michael Keaton and Alejandro G. Iñárritu. The Blu-ray also has Gallery: Chivo's On-Set Photos. Other DVDs releasing today: Dumb and Dumber To, Dying of the Light, Game of Thrones: The Complete Fourth Season, The Homesman, The Interview, Life Itself, The Scarehouse, St. Vincent, The Theory of Everything and V/H/S: Viral. ~Alexandra Heilbron
---
---
---
Similar Articles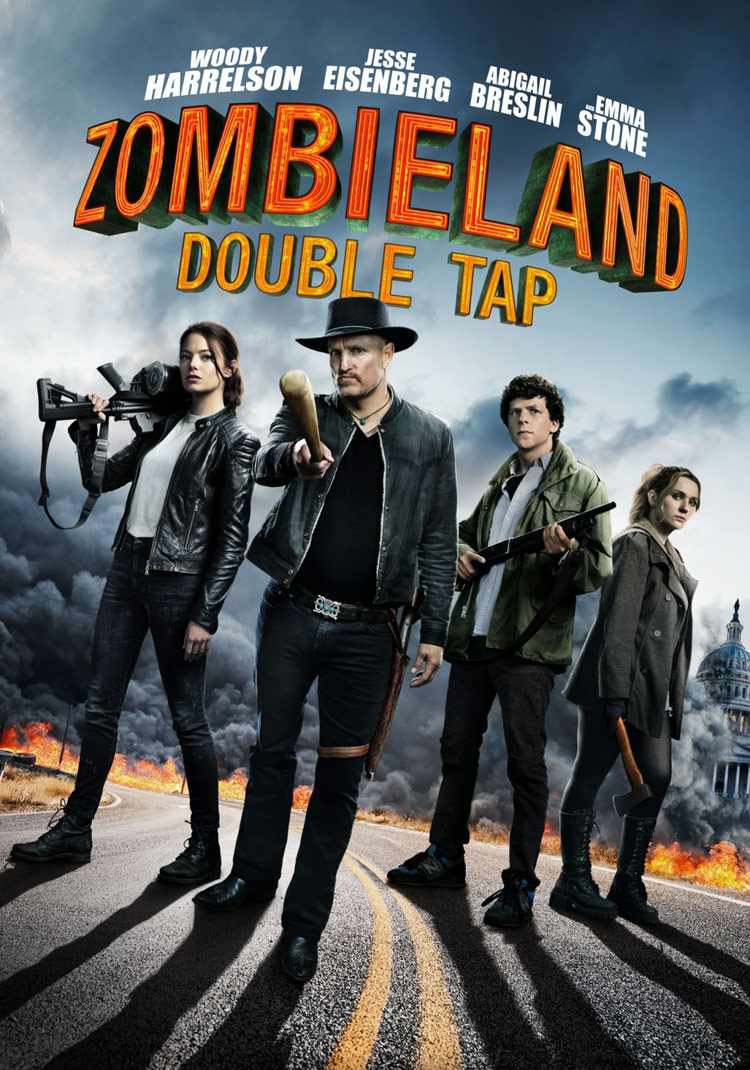 January 21, 2020 | Leave a Comment
Though Zombieland: Double Tap is far from being as fresh as the original, this sequel still features its likeable cast in all their zombie killing glory with some killer laughs along the way.
---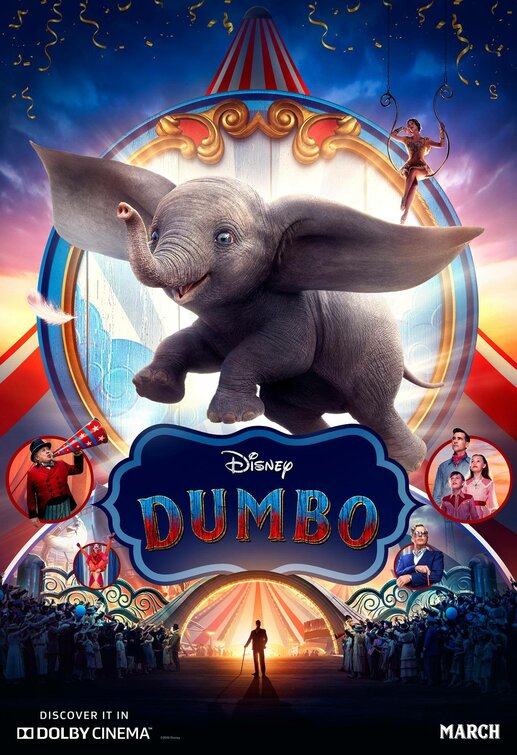 June 24, 2019 | 1 Comment
Tim Burton's live-action re-imagining of the Disney animated classic Dumbo adds a twist of whimsy to the lovable story of the floppy-eared baby elephant.
---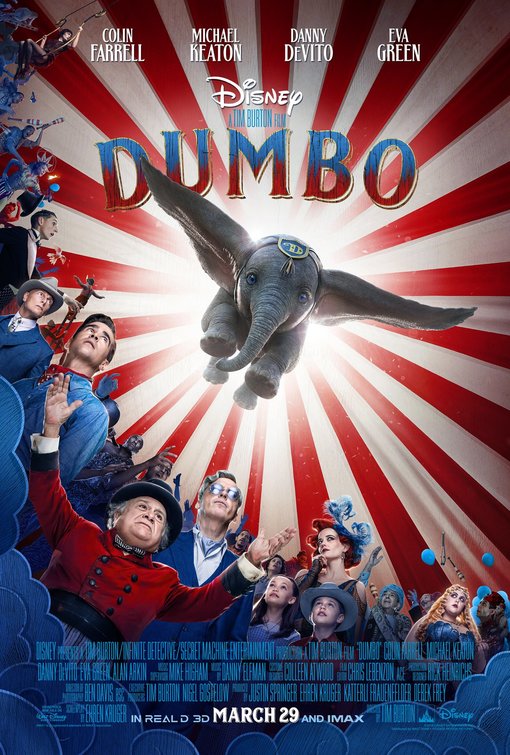 March 28, 2019 | Leave a Comment
The new live-action Dumbo, based on the beloved classic cartoon feature, is whimsical and adorable, with strong performances and an adorable baby elephant.
---