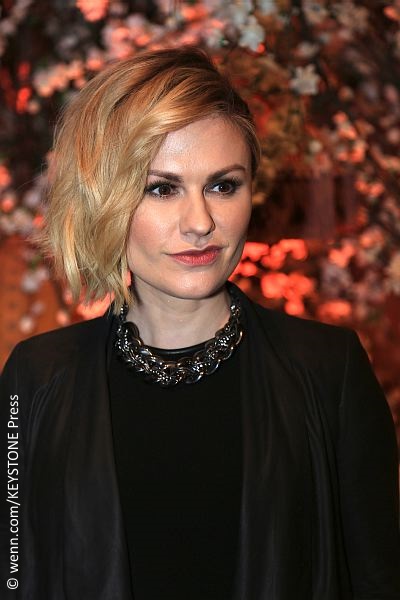 Anna Paquin may have left the vampires of Bon Temps behind, but she's heading back to TV for more blood.
The 34-year-old True Blood actress, who won an Oscar as a child in the 1993 drama The Piano, has signed on to play Nancy Montgomery in the six-hour mini-series Alias Grace.
Based on Margaret Atwood's award-winning 1996 novel of the same name, the mini-series chronicles the true story of Grace Marks, who was convicted of murdering a man named Thomas Kinnear and his housekeeper Nancy Montgomery in 1843 Upper Canada.
The events that led to the murders are twisted and enticing. Grace, a poor Irish immigrant, was hired by Thomas as a servant. Thomas grew quickly infatuated with her, much to the dismay of his lover — and housekeeper — Nancy.
As Nancy grew progressively more jealous of Thomas' affection for Grace, she began to resent the younger woman and eventually fired her. Grace didn't take the news lightly, enlisting the help of stable hand James McDermott to brutally kill both Nancy and Thomas.
For their crimes, James was hanged and although Grace was also sentenced to hang, her punishment was commuted to a prison sentence. After almost nine years in prison, Grace began to show signs of insanity, and was sent for a time to the Toronto Lunatic Asylum, before being returned to Kingston Penitentiary.
Alias Grace is written and produced by Sarah Polley (Away From Her), directed by Mary Harron (American Psycho), and co-stars Zachary Levi (Thor: The Dark World) and Sarah Gadon (Maps to the Stars) as Grace.
Sarah Polley is excited to have Anna on board, championing her work and praising her diverse resumé.
"Anna is an incredibly versatile performer who always makes complex, unpredictable and fascinating choices in her work. It's always a marvel to watch her and we're thrilled to have her join the cast," she said.
The mini-series began shooting in Ontario this month (August 2016) and will be broadcast in Canada on CBC. It will be available on Netflix outside of Canada.
What are your thoughts on Anna's casting and the story of Grace Marks? Comment below!