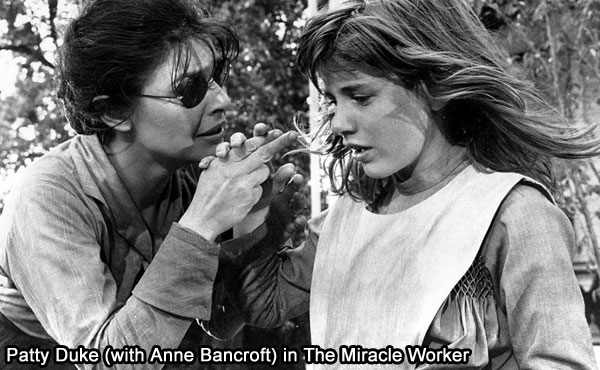 Patty Duke, who began acting as a child and won an Academy Award at the age of 16 for her portrayal of Helen Keller in the 1962 film The Miracle Worker, has died at the age of 69. Her publicist, Mitchell Stubbs, released a statement: "Anna 'Patty Duke' Pearce passed away this morning March 29, 2016 at 1:20 am. Her cause of death was sepsis from a ruptured intestine. She was a wife, a mother, a grandmother, a friend, a mental health advocate and a cultural icon. She will be missed."
Patty Duke was born Anna Marie Duke on December 14, 1946, but when she went to live with her managers, John and Ethel Ross, they changed her name. She first appeared on Broadway in the role of Helen Keller in the stage version of The Miracle Worker for two years from 1959 to 1961 before playing the role onscreen. In 1963, she got her own TV sitcom called The Patty Duke Show, playing identical cousins Patty and Cathy. The series was a success, running for three years, and making Patty Duke a household name.
She went on to have a successful career on television, winning three Emmy awards, including one for her portrayal of Anne Sullivan – Helen Keller's teacher – in the 1979 TV movie version of The Miracle Worker. She also won a Golden Globe award for her starring role in the 1969 feature film Me, Natalie.
Patty married four times — her second marriage, to rock promoter Michael Tell, lasted only two weeks but produced a son, Sean Astin, who later became famous in The Lord of the Rings movies. He was adopted by her third husband, actor John Astin, with whom she also had a son, Mackenzie Astin, also an actor. Her fourth and final marriage was to Michael Pearce.
Patty's father was an alcoholic and her mother was manic-depressive, and unfortunately, Patty also began drinking to excess as a teenager, during the height of her stardom on television. In 1982, she was diagnosed with manic-depression. She wrote two autobiographies — the first, published in 1987, was titled Call Me Anna, and was made into a 1990 TV movie. Her second, A Brilliant Madness: Living with Manic Depression Illness, published in 1992, detailed her struggles with alcohol and drugs, her multiple suicide attempts, and her mental health.
Her husband, Michael Pearce, told the New York Times that Patty was suffering from a ruptured intestine that occurred last Thursday. She died this morning at a hospital near her home in Coeur d'Alene, Idaho, a week after tweeting that she and Michael had celebrated their 30th wedding anniversary quietly at home, signing off, "Love and hugs to all." ~Alexandra Heilbron