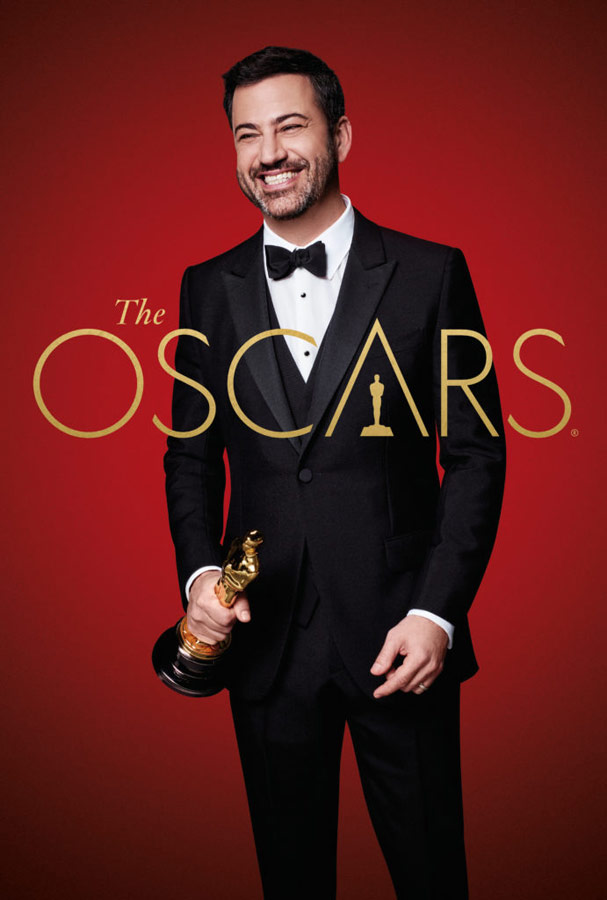 As the host of the Academy Awards for the second year in a row, Jimmy Kimmel turned in another solid performance. His opening monologue included jokes about last year's mix-up, when the wrong Best Picture winner was announced, telling the audience, "This year, if you hear your name called, don't get up right away. We don't want another thing. What happened last year was unfortunate."
He also advised the nominees that if they won, they could give acceptance speeches about anything, but added that the person who gave the shortest speech would win a Jet Ski, as shown on stage by Helen Mirren.
Later in the show, he took a selection of celebrities across the street to interrupt a movie in progress in order to thank a theater full of very surprised and overjoyed people who were given treats as hot dogs were shot out of a rocket launcher.
The laughs didn't stop there. Kimmel poked fun at Barbra Streisand, who recently cloned her late dog, calling her two new dogs "Lentil" and "Yentl" and joking that the process of cloning dogs is expensive, because for the cloning company, finding two dogs who look exactly like the late one could take a lot of searching.
The first winner of the night was Sam Rockwell for Best Supporting Actor for his role in Three Billboards Outside Ebbing, Missouri. He revealed that when he was a kid, his father would sneak him out of school to go watch movies. He thanked his parents for instilling in him a love for movies, and also thanked his beaming girlfriend, Leslie Bibb.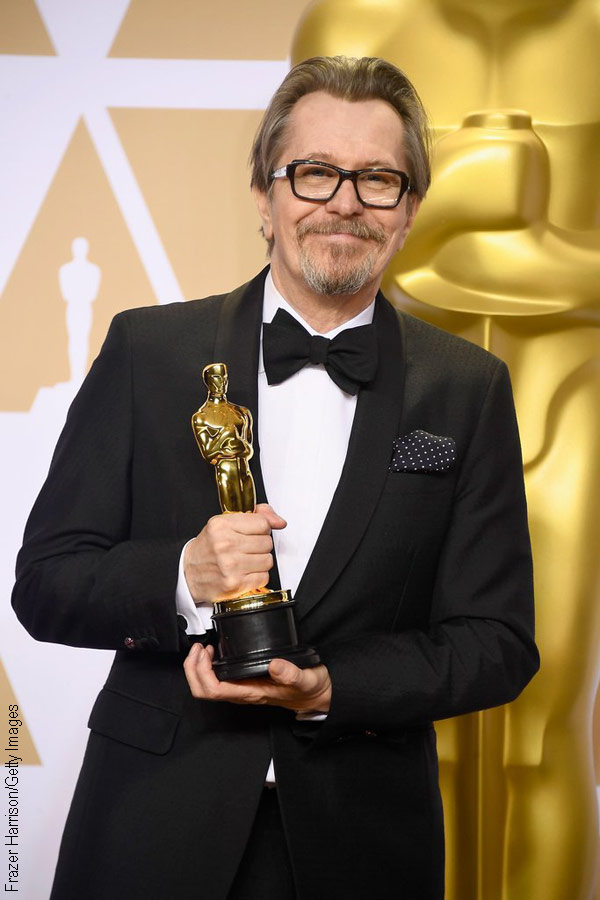 Other acting awards went to Allison Janney, who won Best Supporting Actress for I, Tonya; Frances McDormand who won Best Actress for her performance as a grieving mother in Three Billboards Outside Ebbing, Missouri, and Gary Oldman, who earned his first Best Actor Oscar for his performance as Winston Churchill in Darkest Hour.
Guillermo del Toro, who won Best Director for The Shape of Water, had tears in his eyes as he quoted James Cagney from the movie Yankee Doodle Dandy, saying, "My mother thanks you. My father thanks you. My brother and sister thank you. And I thank you."
After one final quip from Kimmel ("What happened last year was Waterhouse under the bridge"), last year's Best Picture presenters, Faye Dunaway and Warren Beatty, announced this year's Best Picture winner —  The Shape of Water. Check out the full list of winners below. ~Alexandra Heilbron
Best Picture
The Shape of Water (WINNER)
Three Billboards Outside Ebbing, Missouri
Call Me By Your Name
Darkest Hour
Dunkirk
Get Out
Lady Bird
Phantom Thread
The Post
Best Actor
Gary Oldman, Darkest Hour (WINNER)
Timothée Chalamet, Call Me By Your Name
Daniel Day-Lewis, Phantom Thread
Daniel Kaluuya, Get Out
Denzel Washington, Roman J. Israel, Esq.
Best Actress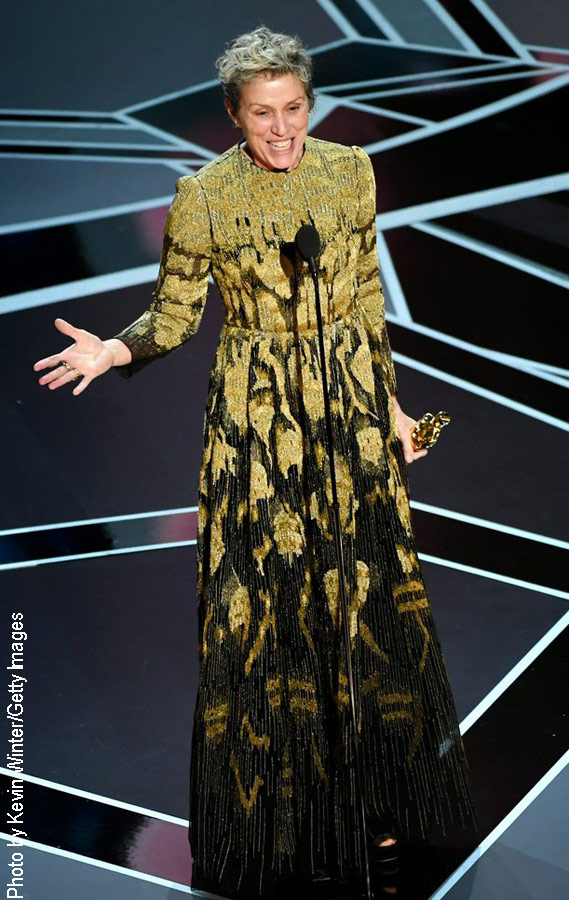 Frances McDormand, Three Billboards Outside Ebbing, Missouri (WINNER) 
Sally Hawkins, The Shape of Water
Margot Robbie, I, Tonya
Saoirse Ronan, Lady Bird
Meryl Streep, The Post
Best Supporting Actress
Allison Janney, I, Tonya (WINNER)
Mary J. Blige, Mudbound
Octavia Spencer, The Shape of Water
Laurie Metcalf, Lady Bird
Lesley Manville, Phantom Thread
Best Supporting Actor
Sam Rockwell, Three Billboards Outside Ebbing, Missouri (WINNER)
Willem Dafoe, The Florida Project
Woody Harrelson, Three Billboards Outside Ebbing, Missouri
Richard Jenkins, The Shape of Water
Christopher Plummer, All the Money in the World
Best Director
The Shape of Water, Guillermo del Toro (WINNER)
Dunkirk, Christopher Nolan
Get Out, Jordan Peele
Lady Bird, Greta Gerwig
Phantom Thread, Paul Thomas Anderson
Best Animated Feature Film
Coco (WINNER)
The Breadwinner
Ferdinand
The Boss Baby
Loving Vincent
Original Screenplay
Get Out – Jordan Peele (WINNER)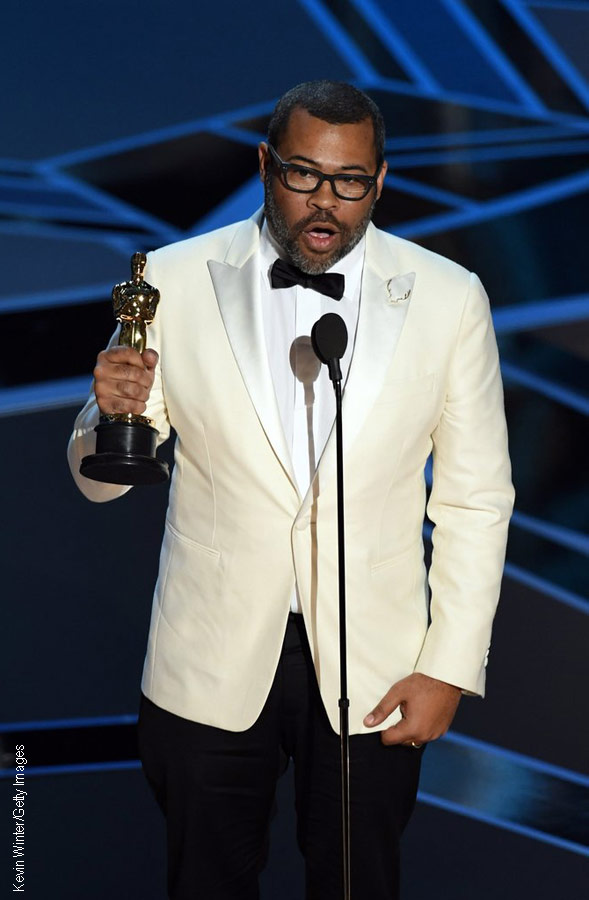 Lady Bird
The Shape of Water
Three Billboards Outside Ebbing, Missouri
The Big Sick
Best Adapted Screenplay
Call Me By Your Name (WINNER)
The Disaster Artist
Logan
Molly's Game
Mudbound
Original Song
"Remember Me," Coco (WINNER)
"Mighty River," Mudbound
"Mystery of Love," Call Me By Your Name
"Stand up For Something," Marshall
"This is Me," The Greatest Showman
Best Foreign Language Film
A Fantastic Woman, Chile (WINNER)
The Insult, Lebanon
Loveless, Russia
On Body and Soul, Hungary
The Square, Sweden
Best Documentary Short Subject
Heaven is a Traffic Jam on the 405 (WINNER)
Edith+Eddie
Heroin(e)
Knife Skills
Traffic Stop
Best Documentary Feature
Icarus (WINNER)
Abacus: Small Enough to Jail
Faces Places
Last Men in Aleppo
Strong Island
Best Production Design
The Shape of Water (WINNER)
Beauty and the Beast
Blade Runner 2049
Darkest Hour
Dunkirk
Best Cinematography
Blade Runner 2049 (WINNER)
Darkest Hour
Dunkirk
Mudbound
The Shape of Water
Best Costume Design
Phantom Thread (WINNER)
Beauty and the Beast
Darkest Hour
The Shape of Water
Victoria and Abdul
Best Sound Editing
Dunkirk (WINNER)
Baby Driver
Blade Runner 2049
The Shape of Water
Star Wars: The Last Jedi
Best Sound Mixing
Dunkirk (WINNER)
Baby Driver
Blade Runner 2049
The Shape of Water
Star Wars: The Last Jedi
Best Animated Short Film
Dear Basketball (WINNER)
Garden Party
Lou
Negative Space
Revolting Rhymes
Best Original Score
The Shape of Water (WINNER)
Dunkirk
Phantom Thread
Star Wars: The Last Jedi
Three Billboards Outside Ebbing, Missouri
Best Visual Effects
Blade Runner 2049 (WINNER)
Guardians of the Galaxy Vol2
Kong: Skull Island
Star Wars: The Last Jedi
War for the Planet of the Apes
Best Film Editing
Dunkirk (WINNER)
Baby Driver
I, Tonya
The Shape of Water
Three Billboards Outside Ebbing, Missouri
Best Makeup and Hairstyling
Darkest Hour (WINNER)
Victoria & Abdul
Wonder
Best Live Action Short
The Silent Child (WINNER)
DeKalb Elementary
The Eleven O'Clock
My Nephew Emmett
Watu Wote/All of Us