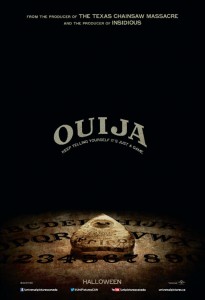 It looks like audiences were in the mood for something scary this weekend. The horror flick Ouija took the number one spot at the box office, grossing an estimated $20 million in its opening weekend. The film, starring Olivia Cooke (Bates Motel) as a grieving teen who unwittingly summons an evil spirit after using a Ouija board to communicate with her dead friend, is currently at a 3.3 Tribute user star rating.
Coming in second was John Wick, which debuted at $14.2 million. The action thriller, starring Keanu Reeves as a retired hitman out for revenge after the death of his dog, is holding a 3.2 Tribute star rating. Last week's number one film, Fury (4.5 Tribute star rating), came in third, grossing $13 million in its second week.
After four weeks in theaters, Gone Girl (3.6 Tribute star rating) is still a favorite with moviegoers, grossing over $11 million this weekend to take the number four spot. Rounding out the top five was the animated film The Book of Life (3.8 Tribute star rating) with over $9.5 million in its second week.
Another notable entry is Bill Murray's St. Vincent (5 star rating), which had its nationwide release this weekend, raking in roughly $8 million to earn the sixth spot. ~Kelly Townsend