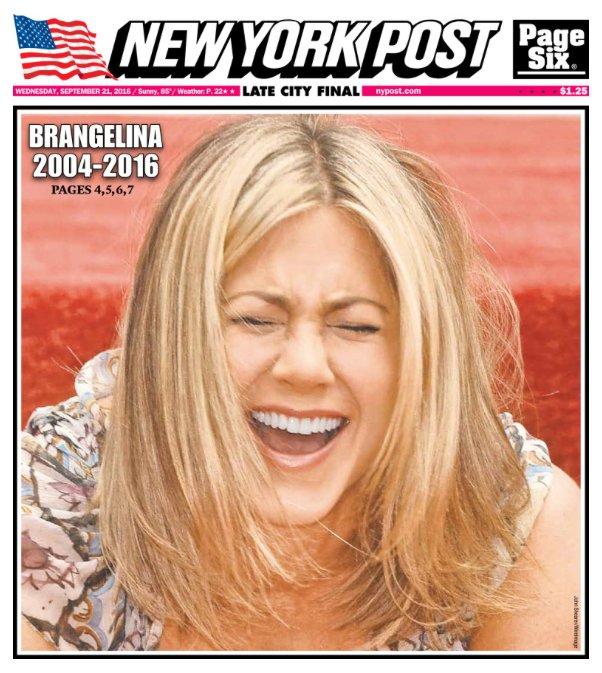 When news broke of power couple Brad Pitt and Angelina Jolie's split on Tuesday, the world reacted to the news in different ways.
While some mourned, others were quick to point out that Jennifer Aniston must be the one most relieved. Soon gifs and images as to how Jennifer would take this news started circulating.
Going with this theme, The New York Post published a shocking cover photo of Jennifer laughing hysterically, while the text "Brangelina 2004-2016" appears at the top.
The Post then tweeted the photo along with the caption: "Jennifer Aniston knew Brangelina would end one day."
Fans were outraged by this cover photo. Check below for some of the tweets that followed their post. 

Brad was married to Jennifer when he met Angelina on the set of the movie Mr. & Mrs. Smith in 2004. After Brad and Jen divorced in 2005, there was wide speculation that he had cheated on Jennifer with Angelina while filming their movie.
Some close friends told The New York Post: "Jennifer always knew that this day would come. Everyone in Jennifer's inner circle regards Angelina as a crazy master manipulator. But we all presumed the end of their affair would be Angelina leaving Brad for someone else."
The source continues: "Jen still cares about Brad and wishes him well. She has moved on and is really happy with [hubby] Justin Theroux."
According to another post on New York Post's Page Six gossip column, Angelina hired a private investigator to spy on Brad because she suspected him of cheating on her. A source told the newspaper that she believed he was messing around with French actress Marion Cotillard, his co-star on the movie Allied. Click here to read more.
Are you happy for Jen or sad for Brangelina? Tell us in the comments below.