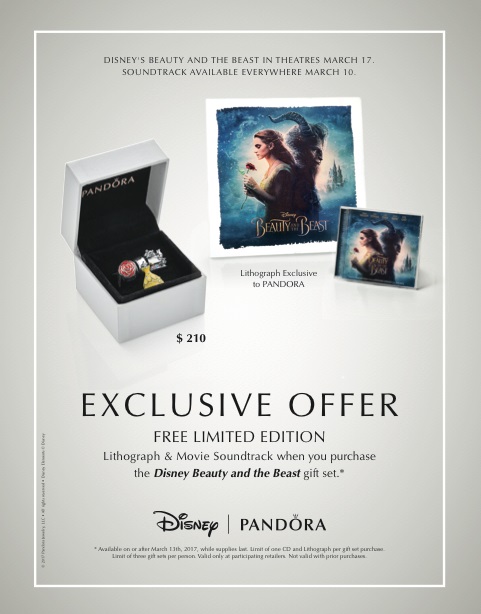 To celebrate the highly anticipated release of Disney's live-action film Beauty and the Beast which releases this Friday, PANDORA Jewelry has unveiled an exclusive gift set consisting of three limited edition charms.
The Beauty and the Beast PANDORA Jewelry gift set will be available for sale in stores starting today. The gift set includes three charms: a Belle Enchanted Rose in sterling silver and red, Mrs. Potts & Chip on a sterling silver charm and the Belle Dress on sterling silver.
These iconic charms are a chic addition to any PANDORA Jewelry bracelet. Simply dazzle away in Belle's iconic yellow dress and the stunning red rose with Mrs. Potts and Chip for company, a magical fairy tale touch to any jewelry collection.
Along with this gift set, fans will receive a special Disney's Beauty and the Beast soundtrack and a custom limited edition lithograph.
The total value of this special gift set is $210 CDN. Disney's Beauty and the Beast will charm audiences in theaters across Canada starting March 17. The film stars Emma Watson, Dan Stevens, Luke Evans, Josh Gad, Kevin Kline, Ewan McGregor, Stanley Tucci, Emma Thompson, Ian McKellen and Gugu Mbatha-Raw.