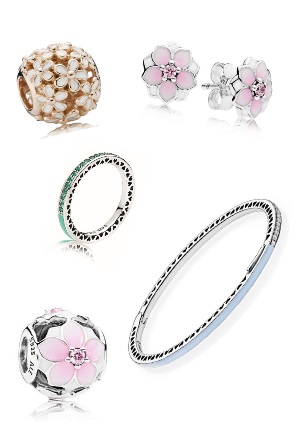 The PANDORA Spring 2017 collection introduces a splash of color and a wide array of floral elements. My favorite from the collection is the signature enamel bracelets and rings that deliver a chic and stunning style statement. Pops of color are always a spring trend and the Radiant Hearts of PANDORA, Bright Mint Enamel & Royal Green Crystals ring ($75) allows you to stack it up for a bold look.
You can pair the enamel rings with the bangles for a glam night out as you party with your squad. The Radiant Hearts of PANDORA bangle ($95) is available in light pink, princess blue, air blue, mint green and radiant orchid.
Floral touches are a must for Spring. Obviously. PANDORA has a range of Magnolia Bloom charms and earrings to complement any look. I adore the Magnolia Bloom, Pale Cerise Enamel & Pink CZ ($55) and the Darling Daisy Meadow, Rose & White Enamel ($80). This daisy charm is encrusted with hand-finished floral designs and the rose gold adds a romantic touch.
With this, I'd say you're spring-ready! ~Marriska Fernandes