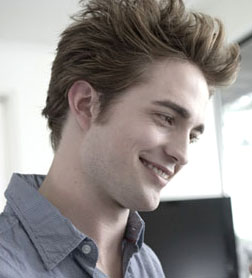 In a new online interview for moviefone, Robert Pattinson was asked whether the story about crew members saying he "reeks" on the set of New Moon was true. The interview went as follows:
Is it true that, I don't know if you saw this, but a source on the set of 'New Moon' said that you don't smell good, that you don't shower?RP: I haven't even been on the set yet!
You know the same thing went around about Zac Efron a while ago; that he doesn't shower. RP: Really? He looks like he smells really good [laughs]. I also do shower.

I also read that you got hit on the head with a sign while you were filming? RP: You know, that is the most … I actually got told about that this morning. It's like, "What?" It's the most boring story.
I heard that you follow all the online gossip about yourself? RP: I read that and thought it was such bullshit. I was like, "God, I sound like such a loser!"
 So it's not true? RP: Well, I do sometimes. I used to a lot more before [but now] I only look at the negative stuff. I just want to know whoever's saying negative stuff, and I just want to remember their names. I write it all down in my black book. [Laughs].
Good thing that's been cleared up —  he may want to write down a few crew members' names in his black book once he does arrive on set!  ~movi_alex.