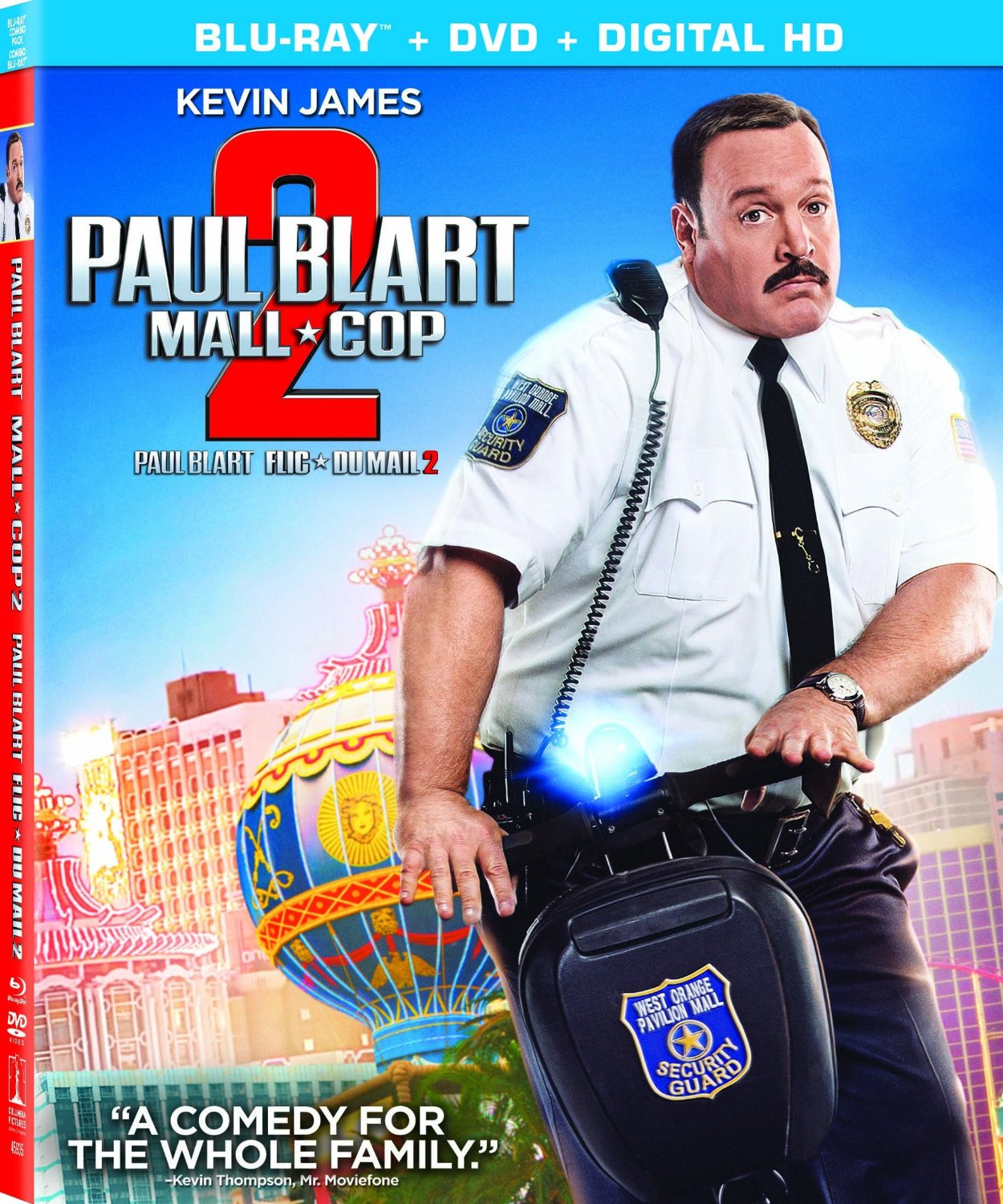 It has been six years since mall security guard Paul Blart (Kevin James) saved a mall from a large scale robbery. In the comedy Paul Blart: Mall Cop 2 Paul is off to Las Vegas to attend a security convention.
After getting married to the woman of his dreams following the events of the previous movie, Paul is devastated when his wife has the marriage annulled after only a week. Shortly after, his mother gets hit by a truck and dies, leaving him emotionally drained. Not long after, his daughter, Maya (Disney star Raini Rodriguez), finds out she's been accepted to UCLA, but worries about leaving her father at this low point in his life, and doesn't tell him.
At the convention Maya hits it off with Lane, a Wynn hotel employee played by Disney star David Henrie. When Maya goes to a party with Lane, she runs back to check her voicemail and is kidnapped by a criminal and his gang who plan to rob the hotel. She tries to call her dad, who is giving a speech at the convention, but she gets voicemail. Once Paul is able to get to his phone following the speech, he jumps into action. With the art in the Wynn hotel being stolen and his daughter held prisoner, it's up to Paul to save the day.
Paul will stop at nothing to stop the heist – more importantly he will stop at nothing to save his daughter.
Paul Blart: Mall Cop 2 comes as advertised, delivering some cheap laughs and minimal plot. The physical comedy in the movie is reminiscent of the first movie. Despite the shortcomings, this is worth a bag of popcorn on a Friday night.
The Blu-ray is packed with numerous special features, including a gag reel (some of which are funnier than the movie), deleted scenes (the filmmakers made a good choice deleting these), Security Force: The Cast of Paul Blart 2 featurette, Action Adventure (a look at how the action was done), Back in the Saddle (a look at the Segway), How to Make a Movie (Director Andy Fickman gives a behind-the-scenes look at filmmaking), Le Reve (How the Vegas show features in the film), No Animals Were Harmed (a look at how the bird fight was choreographed), Sales Tactics (the cast struggle with their lines), Real Cops (Vegas cops talk about Paul Blart) and a Photo Gallery with stills from the movie.
Paul Blart: Mall Cop 2 is now available on DVD and Blu-ray. ~Greg Chisholm
We have five copies of this Blu-ray Combo Pack to give away – for a chance to win one please enter your full name below in the comments with a valid email address where we can contact you if you win and tell us what is your favorite comedy movie! You must be a Canadian resident to win. If you win, post your full name on this article and possibly in our moviemail newsletter as well.
Also releasing this week are: Ex Machina, The Second Best Exotic Marigold Hotel, The Longest Ride,  Maggie, The Riot Club,  It Follows and The Salt of the Earth. 
Watch the Trailers: 
Paul Blart: Mall Cop 2
Ex Machina
The Second Best Exotic Marigold Hotel
The Longest Ride
Maggie
The Riot Club
It Follows
The Salt of the Earth