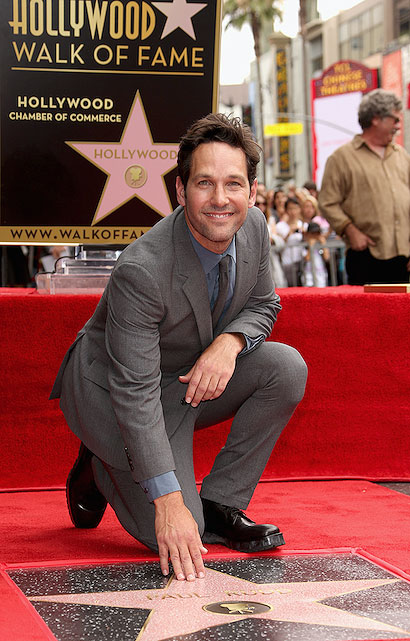 Paul Rudd, who is playing the title role in the upcoming Ant-Man, was honored with a star on  the Hollywood Walk of Fame yesterday, in front of the historic El Capitan Theatre.
Paul was joined at the ceremony by his wife Julie and their children: son Jack, 9 and daughter Darby, 5, as well as his Ant-Man co-star Michael Douglas and his friend, actor Adam Scott, both of whom were guest speakers.
"I remember being a kid and walking this boulevard and reading the names and thinking about what so many other millions of people thought about, which is, 'Who's that?'" Paul said during his speech. "The fact that millions of people are going to be able to now see me and ask that same question … is humbling beyond belief."
Paul's breakthrough role was in the movie Clueless, and he has appeared in many comedies since then, including This Is 40, Dinner for Schmucks, I Love You, Man, Knocked Up and Wet Hot American Summer.
He is currently reprising his role for the raunchy new Netflix TV series, Wet Hot American Summer: First Day of Camp.
Ant-Man releases in theatres July 17, 2015.