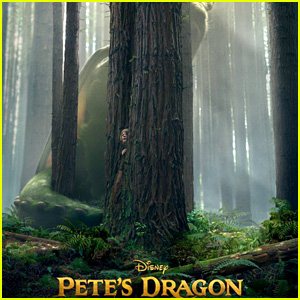 Pete's Dragon is a reboot, but not a remake of Disney's 1977 film of the same name. In the original, there was an animated dragon and a boy named Pete, but the similarity ends there.
This new retelling centers around a boy named Pete (Oakes Fegley). When his parents are killed in a car accident, the four-year-old boy climbs out of the car and goes into the woods, where he meets a dragon he names Elliot. Elliot takes care of the child and protects him. When forest ranger Grace Meacham (Bryce Dallas Howard) first notices Pete in the woods six years later, she's determined to find out who he is and why he's out there.
Her father (Robert Redford) has been telling the story of encountering a dragon in the very same forest years ago and although she'd always assumed that was fiction, she asks him for more detail. He tells her about the magical aura the dragon had, and how he was surprised that the dragon didn't harm him, even though he (Mr. Meacham) was carrying a rifle.
Tribute's Senior Editor Alexandra Heilbron and writer Yanis Khamsi caught an advanced screening of Pete's Dragon. Read what they thought about it below:
Alexandra: I was looking forward to seeing this movie, but I had no idea I would love it as much as I did. It had all the innocence and adventure as the Disney movies I watched when I was a kid. You're younger than I am so probably the Disney movies of your childhood were different —  what did you think of it?
Yanis: I saw a lot of Disney movies when I was younger, including the original Pete's Dragon. I haven't been keeping up with the newer Disney movies, except for Frozen, Star Wars and the Marvel movies. This new Pete's Dragon was an enjoyable kids movie. How did you like Elliot?
Alexandra: Like the animals in The Jungle Book, he was crafted so beautifully that I felt like I was looking at a real dragon. He was cuddly, but fierce and protective, though he had no intention of harming people. Typically though, when people first see him, they immediately fear him.
Yanis: The CGI was great, and the bond between Pete and Elliot was well done. I also liked the mythology behind Elliot. The movie says there is a legendary dragon that has inhabited the woods for generations. This remake takes the mythos more seriously than the 1977 original. I like that, though the personality and wit of the original was lacking at times.
Alexandra: Well, the animated dragon from the old version talked, and the new one doesn't, he's more real. It's hard to compare the two, they're totally different movies. But I agree, their relationship was heartwarming and the boy who played Pete — Oakes Fegley — was a real find. Disney really knows how to cast their movies. He's appeared on television and in a few non-Disney films, but I'd never seen him before — and he was amazing. Because Pete hasn't been around people since the age of four and he's now 10, his social skills are lacking somewhat but he also has no fear of other children, which I found interesting. Oakes showed a wide range of emotions as Pete is plucked from the woods and reintroduced to the ways of humans.
Yanis: I thought his acting was amazing. It's so rare that we see child actors with that much range. Although I didn't find that Pete had a distinct personality. What makes him distinct other than the fact that he's friends with a dragon and lives in the woods? The same could be said of the other characters. We never really get to know them.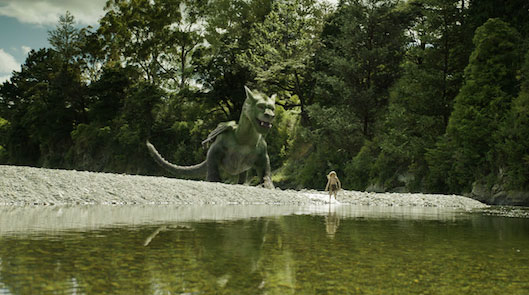 Alexandra: I disagree. I felt like I knew Pete very early in the movie. He loves books, he's a survivor, he's a tough kid, but incredibly sweet. He's curious, which is what gets him and Elliot into trouble. The way he reacts to things tells us so much about who he is. I had shivers when Grace said the same thing to him that his mother said years earlier — he was so pleased to hear those words again. The other characters, such as Grace and her father are supporting characters, so naturally we don't get in depth looks at them. Although I have to say Robert Redford has a big presence onscreen. You don't see him acting — he just inhabits each role he plays. I've also never seen Bryce Dallas Howard bring as much warmth to a role as she does with Grace.
Yanis: I agree that Robert Redford's character was great. But what about Karl Urban's character? Did he really feel two dimensional to you? To me he felt like a plot device. Grace's daughter is also worth commending. The script and the actress both come together to create a lovable character who Pete can bounce off of.
Alexandra: Karl Urban, who plays Gavin, Grace's brother-in-law, is basically the villain, so again, I feel his back story is unnecessary. Pete's Dragon is about Pete after all, not Gavin. I remember when I was a kid, I didn't care about adult characters. They were the mom, the mean guy, the teacher — other than their roles in the kids' lives, I didn't want to know about them. However, as an adult, I admit I was a little curious about Grace's husband. I wasn't clear whose side he was on — his wife's? Or Gavin's?
Yanis: Now you see what I mean about the characters. I wasn't clear about Grace's husband or what he wanted either. I loved the movie's visuals though. Breathtaking! And I believe it's set in the 1970s. The film's color was warm and felt nostalgic. The inclusion of Leonard Cohen in the film's soundtrack was also welcome. I never thought I'd hear Leonard Cohen in a Disney movie.
Alexandra: I couldn't tell what the era was, but maybe that's why it was reminiscent of movies from my childhood. And I agree, the movie was visually stunning, I wanted to go for a hike in the woods after watching it, or even live there! How do you rate Pete's Dragon?
Yanis: I give it seven out of 10 stars.
Alexandra: As I may have mentioned earlier, I really loved this film, so I give it a full 10 stars. I want to see this one again in theaters. To sum it up, this has been an interesting discussion — I think what we're seeing here is that although this movie will definitely appeal to children, parents and children-at-heart, it may not have as much appeal for twenty-somethings who prefer movies such as Sausage Party.
If you've seen Pete's Dragon, please tell us below what you think! And if you'd like to write a review, click here to leave your review on the movie page for other Tribute moviegoers to read.