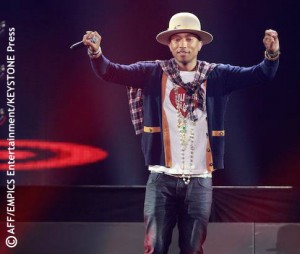 Pharrell William's award-winning song "Happy" is set to be made into a children's book.
The singer has signed a deal to create a series of four picture books with Putnam books, a division of Penguin Young Readers.
The first book in the series – Happy – will be published on September 22 and will feature photos of children around the world celebrating what it means to be happy.
In a statement released by Pharrell, the artist says continuing the song's message is important to him.
"I'm humbled by the global success of 'Happy,' but especially in awe of the song's young fans," he said. "My collaboration with Penguin allows me to continue a dialogue with these children in a fresh, new way. We're both committed to feeding the curiosity of young minds with imagination."
The song "Happy" first appeared on the soundtrack for Despicable Me 2 and became a hit overnight. The song was the inspiration for a 24-hour music video that featured happy people dancing to the track in locations all over the world.
The hit was nominated for an Oscar in 2014 for Best Original Song but lost to Frozen's "Let it Go." The song recently picked up two awards at this year's Grammy Awards – Best Pop Solo Performance and Best Music Video. ~Suzanne Coolen