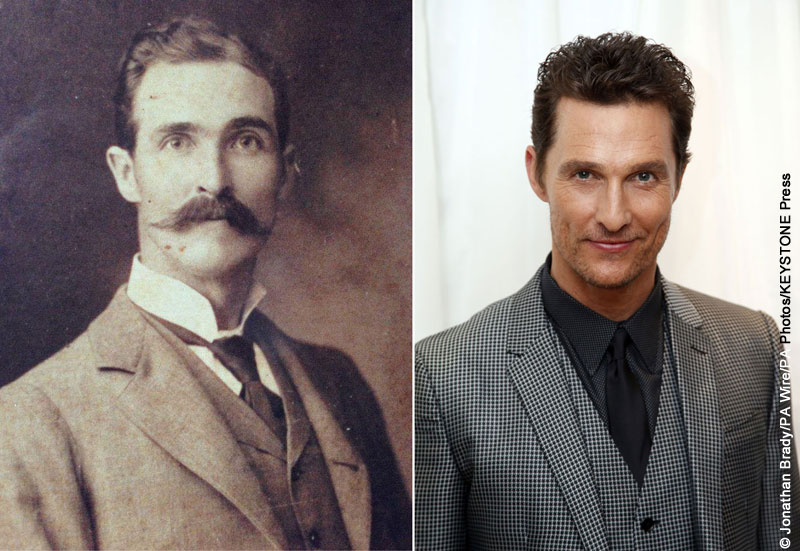 In 2011, an antique photo surfaced that looked so much like Nicolas Cage that people did a double take. Now one has surfaced of Matthew McConaughey, but in this case, the person in the photo can be traced, and amazingly, despite the man in the photo looking very much like the actor, they don't seem to be related.
The man in the photo on the left is Dr. Andrew Sanders, and he's the great-great-grandfather of Sanders Parker, 30, who posted the photo on Reddit with the caption: "My Great Great Grandfather looks just like Matthew McConaughey."
Parker told ABC News, "His name was Dr. Andrew Sanders, and he's also where I get my namesake from."
Parker's sister was the first one to notice the resemblance to Matthew McConaughey. "It's been a lot of fun. My sister deserves most of the credit," Parker said. "My uncle posted it originally [on Facebook] and my sister pointed out the resemblance. I'm just the one who took it and ran with it."
The look-alike men have a few things in common — they're both from the South — Sanders lived in Alabama, while Matthew hails from Texas. Sanders apparently enjoyed smoking a pipe outside on his front porch and listening to birds. Matthew is known for enjoying a cigar and prefers sitting on a porch to being inside.
Parker swears the photo is not retouched. "I know it's hard to believe in the Photoshop age that this isn't altered, but it really is straight up original. I think Redditors do pretty good detective work. They'd definitely find me out. And my family isn't savvy enough to attempt that."

Loading ...