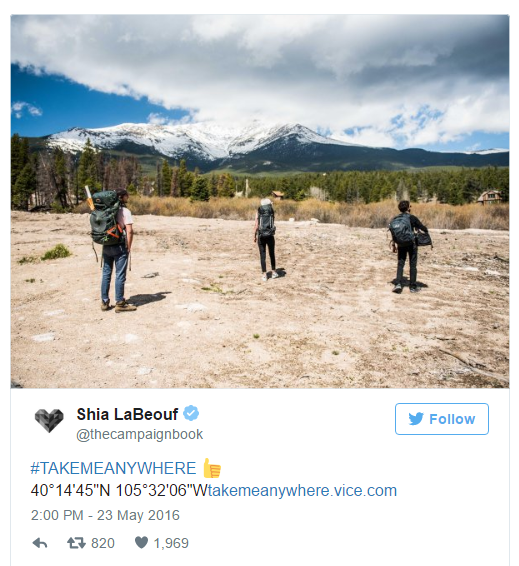 Shia LaBeouf has donned a bag over his head, wept in front of strangers and sat through a marathon of his own movies all in the name of art. But his most recent avant-garde undertaking may be his edgiest (and riskiest) project yet.
The 29-year-old actor — or performance artist, if you must — is embarking on a hitchhiking adventure across the U.S. for a month.
The Transformers leading man and two fellow collaborators took to the road earlier this week with his art piece titled #TAKEMEANYWHERE. The endeavor got underway when Shia tweeted out his location with GPS coordinates, which three young and enthused men used to pinpoint him. They tracked him down and together visited the Oskar Blues Brewery in Longmont, Colorado.
Shia's project is simple: pick him and his two friends up and take the trio anywhere.
The venture is backed by Vice and Frame Contemporary Art Finland, and it's commissioned by the Boulder Museum of Contemporary Art and the Finnish Institute in London as part of the MediaLive festival. MediaLive's director Nicole Dial Kay told The Boulder News, "The point of the project is to examine corruption — the theme of this year's festival — through the tradition of the American road trip."
She added, "They are opening themselves up to goodness or possibly corrupt nature. It's about openness and exploration and connecting to people."
Nicole also said the trio will not place restrictions on who can pick them up or whether they'll contribute money to their drivers.
"We want this to be a really organic process where things can happen. We don't want to put any limits on what might happen, because it may stop something wonderful from happening," she said.
Shia and his partners Nastja Säde Rönkkö and Luke Turner will continue tweeting out their coordinates in the hopes of attracting potential carpoolers.
In addition to the coordinates made public, drivers looking for some company can visit the #TAKEMEANYWHERE website to find the star.
Check out the below video featuring Shia and his first three participants, and let us know what you think of the project! ~Matthew Pariselli