Piers Morgan caused The Good Place star to consider suicide
By Marriska Fernandes on March 11, 2021 | 5 Comments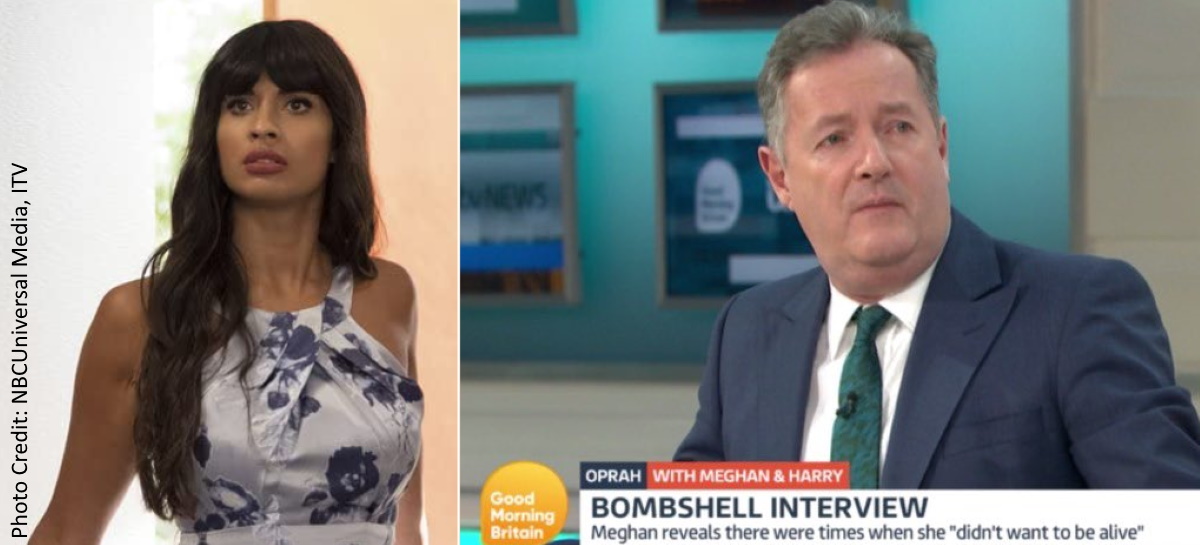 The Good Place star Jameela Jamil, who played rich society girl Tahani on the popular series, claims that TV presenter Piers Morgan almost drove her to suicide last year.
Her revelations come after the British TV host exited Good Morning Britain, which came after he made extremely controversial comments on-air regarding Meghan Markle.
The actress tweeted on Tuesday: "May we NEVER have to watch minorities have to go on mainstream news and have to *defend* their right to be treated with dignity and respect… ever again. All while being screamed over by this man."
She continued: "I almost killed myself a year ago because of Piers Morgan's relentless campaign of lies and hatred against me last February. I'm glad I'm still alive today for many reasons. But watching him leave GMB today is right up there and has me feeling…" She shared a GIF of her self looking glam while flipping her hair on the Emmy Awards red carpet.
She also retweeted a news article about Piers's exit, saying: "OH MY GOD IS IT MY BIRTHDAY AGAIN?! I hope @alexberesfordTV replaces his role. What a gent!"
On Tuesday's episode, his co-host Alex Beresford said to him: "I understand that you [Morgan] don't like Meghan Markle, you've made it so clear a number of times on this program. And I understand that you've got a personal relationship with Meghan Markle, or had one and she cut you off. Has she said anything about you since she cut you off? I don't think she has, but yet you continue to trash her."
Piers then got up out of his seat in a huff and walked off the set saying: "OK, I'm done with this. Sorry, no, can't do this."
Last year, Morgan and Jamil had a heated exchange on Twitter after he released an alleged text message from the late Love Island host Caroline Flack that discussed the actress. Jamil tweeted: "Piers using a dead woman who I was friends with, as a weapon to try to create further harassment for me as I've JUST explained publicly that last week I felt suicidal… is why he is this industry's most problematic. My criticizing a *show* did not aim any hate at Caroline."
Piers had then responded to her, writing, "Delighted to see Jameela Jamil has miraculously found the strength from her myriad afflictions to brand me a 'bullying parasite.' This is such a valuable contribution to the #BeKind movement & I wish her well with her continued recovery from Hypocritical Twerp Syndrome."
On Monday's show, Piers Morgan questioned whether the Duchess was being truthful about having suicidal thoughts, which was unveiled in a bombshell interview with Oprah Winfrey on Sunday night. Morgan has previously called Meghan "Princess Pinocchio" in a tweet, and on Monday's episode said: "I don't believe a word she says, Meghan Markle. I wouldn't believe it if she read me a weather report and the fact that she fired up this onslaught against our royal family, I think is contemptible."
The day before his exit, the Duchess of Sussex formally complained to the broadcaster ITV about Piers Morgan, as did over 41,000 viewers (and his own colleagues). ITV News' royal editor Chris Ship tweeted, "The Duchess of Sussex formally filed a complaint to @ITV on Monday. It's thought to have been sent to the broadcaster's CEO. Meghan raised concerns about how @piersmorgan's words affect the issue of mental health and what it might do to others contemplating suicide."
Piers Morgan's on-air comments have sparked a huge controversy in Britain, and he was even rebuked by mental health charity, Mind. Following the complaints from viewers after Monday's episode of Good Morning Britain, ITV launched an investigation.
By Tuesday night, ITV said in a statement: "Following discussions with ITV, Piers Morgan has decided now is the time to leave Good Morning Britain. ITV has accepted this decision and has nothing further to add."
That evening, the former GMB host tweeted: "On Monday, I said I didn't believe Meghan Markle in her Oprah interview. I've had time to reflect on this opinion, and I still don't. If you did, OK. Freedom of speech is a hill I'm happy to die on. Thanks for all the love, and hate. I'm off to spend more time with my opinions." ~Marriska Fernandes
If you or someone you know is struggling or just needs to talk, in the U.S. call the National Suicide Prevention Hotline at 1-800-273-8255. In Canada, please call the toll free Canada Suicide Prevention Service at 1-833-456-4566.
---
---
---
---
Similar Articles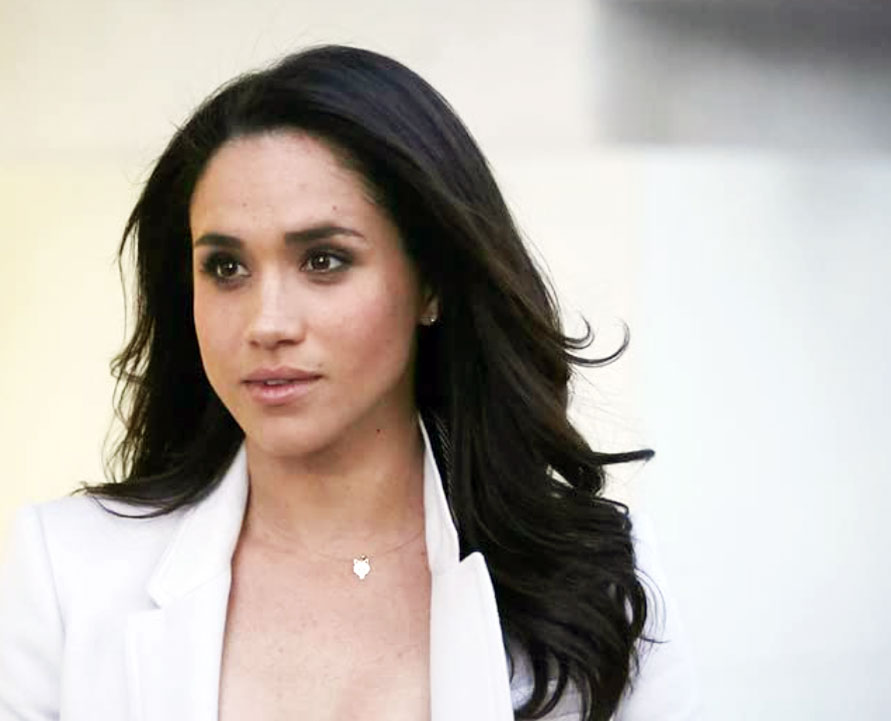 April 1, 2021 | 10 Comments
Meghan Markle seems to be moving onto her next chapter in life. According to biographer Tom Bower, Markle has a "good chance" of becoming the U.S. president.
---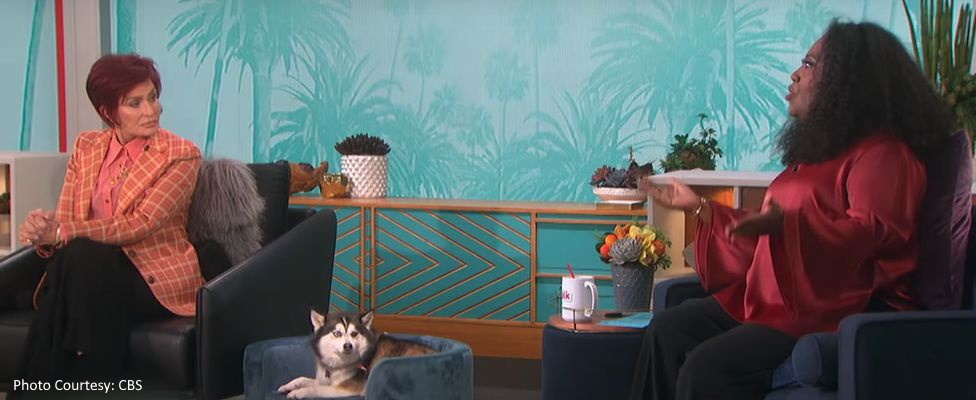 March 18, 2021 | 22 Comments
Co-hosts of The Talk, Sheryl Underwood and Sharon Osbourne, had a heated discussion last week about racism on air. CBS has decided to extend the show's hiatus.
---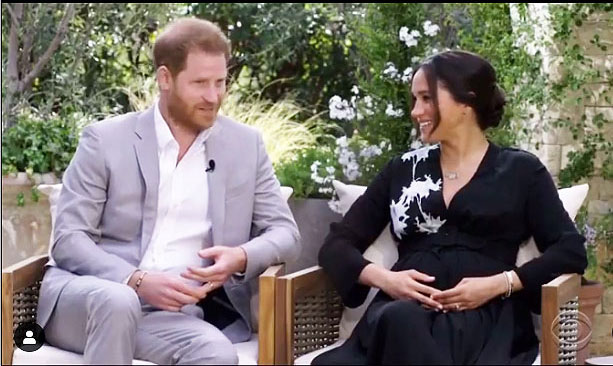 March 10, 2021 | 14 Comments
Celebrities show their support for Meghan Markle and Prince Harry after their explosive interview with Oprah, in which they discussed a number of topics.
---