Piers Morgan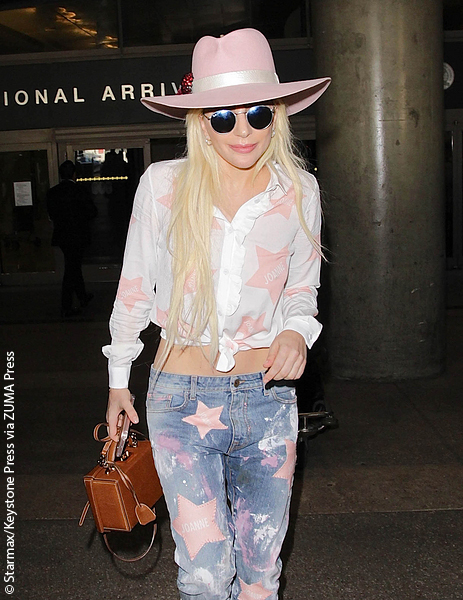 's outspoken views have a way of getting him in hot water, and the latest celebrity he's pitted against is Lady Gaga.
Following the "Perfect Illusion" singer's revelation that she struggles with post-traumatic stress disorder triggered by being raped when she was 19, Piers lashed out and called her claims "vain-glorious nonsense." He added that she only opened up about her past to "promote" herself.
To set the record straight, the two have agreed to an interview that will surely ruffle feathers and ignite a heated debate. The interview has yet to be scheduled.
The 30-year-old singer-songwriter-actress first discussed her case of PTSD on a segment for Today, in which she paid a New York LGBTQ homeless center a visit. Following the segment, she posted a letter to her Born This Way Foundation website, further addressing the disorder. She also applauded Madonna, who recently spoke about feminism, sexism and misogyny at the Billboard Women in Music awards.
Piers, 51, entered the Twitter conversation when he denounced Gaga's claims and said her story, as well as Madonna's revelation of rape, are only "allegations" as the pop stars did not file police reports.
It didn't take long for Gaga to diplomatically respond on Twitter. She said she would "love to share" with Piers why women don't report instances of rape, and would also be open to discussing PTSD and the "mental health youth epidemic."
Their exchange escalated, however, to the point that Gaga said, "if you continue to shame me in the process of kindly agreeing to interview w/ u I'll happily do the interview with someone else."
Check out their tweets below for a full look at their conversation.
Is Gaga shamelessly self-promoting or is she bravely opening up about her true past? Will you tune in for her interview with Piers? Share your thoughts with us! ~Matthew Pariselli
No, soldiers returning from battlefields do.
Enough of this vain-glorious nonsense. https://t.co/WR2ODolv8v

— Piers Morgan (@piersmorgan) 10 December 2016
I come from a big military family. It angers me when celebrities start claiming 'PTSD' about everything to promote themselves. https://t.co/IeSiGQkOjb — Piers Morgan (@piersmorgan) 10 December 2016
No.
Lady Gaga & Madonna have both made ALLEGATIONS of rape many years after the event.
No police complaint, no charges, no court case. https://t.co/N8oWjcMKAC

— Piers Morgan (@piersmorgan) 10 December 2016
I don't think all claims of rape should be necessarily accepted as fact without proper criminal investigation, do you? https://t.co/ogFjSUmgTU — Piers Morgan (@piersmorgan) 10 December 2016
I wouldn't automatically believe anything either Madonna or Lady Gaga claimed about their lives. https://t.co/4JJcP17cjp

— Piers Morgan (@piersmorgan) 12 December 2016
@piersmorgan I've work w/ our VP Joe Biden on helping educate people about why women don't report, would love to share it w/ you some time. — xoxo, Joanne (@ladygaga) 13 December 2016
OK, you're on.
Let's do an interview about this & you can tell me why I'm wrong to be sceptical. https://t.co/CFLOL06Emq

— Piers Morgan (@piersmorgan) 13 December 2016
@piersmorgan would also love to talk with you about PTSD, that it's not just a "military" disorder. There is a mental health youth epidemic. — xoxo, Joanne (@ladygaga) 13 December 2016
@piersmorgan if anyone in your family suffers from it, I pray they have more good days than bad. It has affected me & my whole family.❤️✌️

— xoxo, Joanne (@ladygaga) 13 December 2016
I know numerous soldiers with PTSD, it's a very serious thing. I also know people who claim to have it but clearly don't. Let's talk… https://t.co/ZTk5mSZLBt — Piers Morgan (@piersmorgan) 13 December 2016
I'm both.
This interview would air worldwide.
Reckon you can handle me @ladygaga ? https://t.co/tedWugyXHi

— Piers Morgan (@piersmorgan) 13 December 2016
@piersmorgan Let's do that & yes Mr. Morgan, I can handle u. Suprised you would question that. Was that the 1st question of our interview? — xoxo, Joanne (@ladygaga) 13 December 2016
Yes!
OK @ladygaga, we have a deal.
I'll get my people to contact your people.
It's an important debate. https://t.co/WY2mmVZDFT

— Piers Morgan (@piersmorgan) 13 December 2016
@piersmorgan if you continue to shame me in the process of kindly agreeing to interview w/ u I'll happily do the interview with someone else — xoxo, Joanne (@ladygaga) 13 December 2016