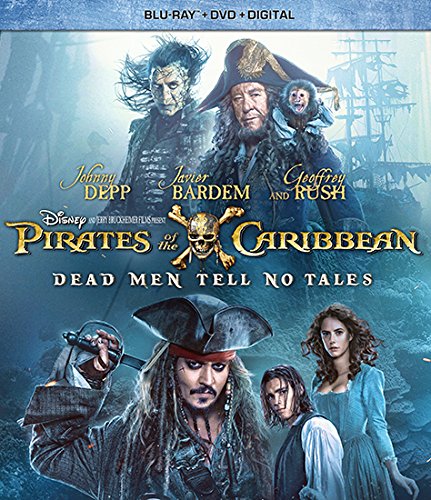 Pirates of the Caribbean: Dead Men Tell No Tales takes no prisoners in the latest installment of the franchise. Johnny Depp returns with wit and humor while Javier Bardem steals the spotlight by giving us goosebumps as he delivers a haunting performance.
The film follows Henry Turner (Brenton Thwaites), son of Will Turner (Orlando Bloom), who wants to break a curse that's been placed on his father. For that, he needs to find Jack Sparrow (Johnny Depp) so that together, they can retrieve the Trident of Poseidon, which is the only way to break the curse. Also looking for the Trident is Carina Smyth (Kaya Scodelario).
While Henry, Carina and Jack Sparrow join forces on their mission, Sparrow's old nemesis Captain Salazar (Javier Bardem), now a ghost, escapes the Devil's Triangle and is out for Sparrow's head on a stick. To read a complete review of the film, click here.
The Blu-ray is filled with Bonus Extras to entertain fans of the franchise. Dead Men Tell No Tales: The Making Of A New Adventure is a seven-part behind-the-scenes feature that details the production of the film. Check the seven parts below.
A Return to the Sea (4 min) – Filmmakers Joachim Rønning and Espen Sandberg discuss their journey in bringing the beloved franchise back to the big screen and reveal how they developed the new story.
Telling Tales: A Sit-Down with Brenton & Kaya (9 min) – Two new actors who add drama and romance to this installment are Brenton Thwaites and Kaya Scodelario. They discuss what they liked most about joining the franchise and becoming a part of the film's legacy.
The Matador & the Bull: Secrets of Salazar & the Silent Mary (14 min) – Details about Captain Salazar, played terrifyingly by Javier Bardem, are revealed here. Javier talks about his menacing role.
First Mate Confidential (9 min) – Kevin McNally, who plays the pirate known as Mr. Gibbs, who has stood loyally beside Captain Jack in all five movies, takes you on the set of the film.
Deconstructing the Ghost Sharks (4 min) – Some of the special effects that were highly appreciated and captured the audiences' interest were the ghost sharks. This special feature shows how the sharks came to life — right from the design stage.
Wings over the Caribbean (5 min) – A very memorable scene with Johnny Depp and Paul McCartney is finally explained.
An Enduring Legacy (4 min) – A look at the legacy of the Pirates of the Caribbean, including the famous ride at the Disney theme parks, on which the movies are based and which feature animatronic Captain Jack Sparrow figures.
Also included are:
Jerry Bruckheimer Photo Diary – This feature unveils a collection of the producer's personal photos from the set.
Deleted Scenes (including four scenes involving Davy Jones' Locker) and Bloopers.
If you've seen Pirates of the Caribbean: Dead Men Tell No Tales and you would like to rate/review the movie yourself, click here.