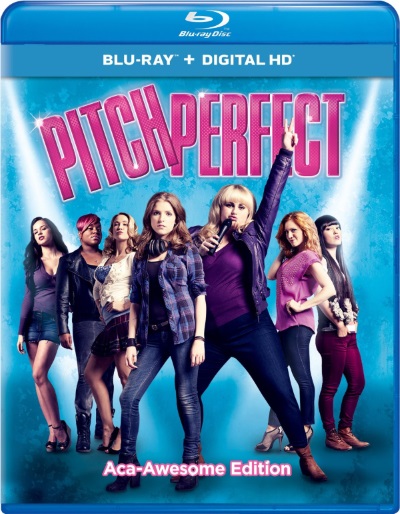 The Barden Bellas are belting out the hottest head-banging tunes and you can now sing along to it karaoke style! The Pitch Perfect Sing-Along Aca-Awesome Edition is perfect for a girls' night out. The on-screen lyrics will get you grooving to your favorite a cappella songs from the comfort of your home while still in your PJs.
Anna Kendrick plays Beca, a freshman who is not one to fit into any given clique. A loner by nature, she is forced by her divorced father to attend college. Beca loves music and wishes to pursue a career in music production. When she is caught in a rather compromising situation by one of the Bellas, she is forced to join their group. Weirdly comprised but nothing short of pitch-worthy, the Bellas form one oddly outstanding team who have to work outside of their comfort zone and follow on the heels of Beca's mixed mashups.
With a cappella battles and boy trouble, the girls bring down the house. Anna Kendrick is nothing short of impeccable as she mutters monosyllables under her breath and rolls her eyes at the drama from her teammates. Holding her ground, she breaks traditions and leads a dance-worthy mash-up of hot numbers. Needless to say, she brings her A-game (and G-Sharp) to the table. Rebel Wilson, who will easily become your favorite Barden Bella, is delightfully admirable and hilarious as Fat Amy. You couldn't hate her even if you wanted to.
Whether you like comedies or plain old chick flicks, this laugh-out-loud film is guaranteed to hit the right notes in your book. Brittany Snow and Anna Camp deliver their roles in (pitch) perfect harmony – whether they're shedding a tear or spilling their guts, literally.
Bonus features on the Blu-ray includes Sing-Along version, Deleted & Extended Scenes, Line-O-Ramas, A Look Inside, Feature Commentaries, Starships: The Pitch Perfect Music Video with Mike Tompkins and more! ~Marriska Fernandes
Other DVDs releasing this week include: Selma, Mr. Turner, Playing it Cool, Black or White, Love, Rosie, The Pyramid, Black Sea, Lost River, Murder of a Cat and Fifty Shades of Grey.