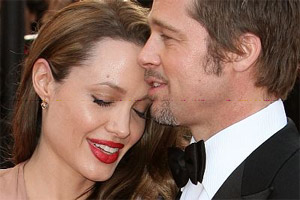 Amongst numerous tabloid reports that Brad Pitt and Angelina Jolie are breaking up, Pitt has finally had enough. He went on record to dispel breakup rumours by insisting he's the "happiest" he's ever been.
The high-profile Hollywood couple's relationship has been put under the spotlight in recent weeks, with Internet gossip speculating the romance is in trouble amid reports that Jolie walked in on Pitt having "a cozy rendezvous with ex-wife Jennifer Aniston."
Pitt and Jolie were recently showing their affection during the Cannes film festival by hugging and kissing each other on the red carpet.
Pitt says, "I am in love and I have the most beautiful family. What else can a guy want? I am the happiest man ever. We're so lucky." Pitt was recently in Cannes to promote his film Inglourious Basterds.