Point Break interview: Luke Bracey on playing Johnny Utah, amazing stunts and more!
By Marriska Fernandes on December 21, 2015 | 1 Comment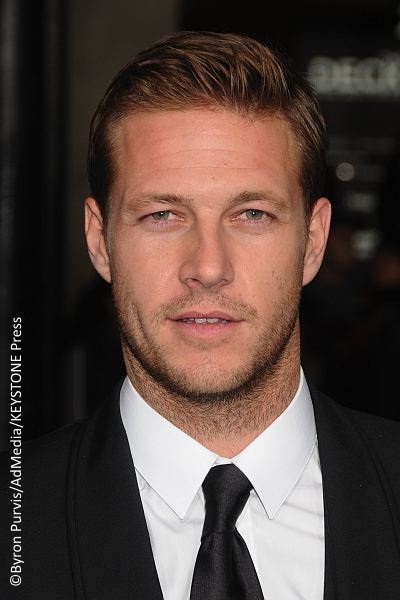 Australian hunk Luke Bracey takes the lead in the Point Break reboot, set to hit theatres on December 25. The actor brings charisma to the classic hit as he steps into the shoes of Johnny Utah, originally portrayed by Keanu Reeves. The 1991 film has been re-imagined for a bolder and more adventure-savvy audience, bringing death-defying stunts to the forefront. Tribute sat down with Luke Bracey to discuss his initial apprehensions, jaw-dropping stunts and the last thing he did to test his limits.
Congratulations on the film! What was it like remaking Point Break?
Thank you! It was amazing. There was no pressure. We're paying ultimate respect to the original by showing how much we love it by saying we need another one. We need one now with tow surfing instead of just paddling surfing, one with wingsuiting, one for kids who have seen all the GoPro videos on YouTube. For me it was really exciting as I'm a huge fan of extreme sports. I grew up surfing. I grew up on the beach in Sydney so surfing for me is part of my life.
My favorite scene is when Johnny lands after the wingsuit flying – your expression summed up everything.
Was that it? I'm so glad because I was talking to Jeb Corliss who was the wingsuit coordinator and he was helping us with that whole thing. I remember when we did that scene he came up to me after we filmed it and said, "That's exactly what it feels like, bro." I'm so happy that he saw the scene and came up to me. I felt proud. He was like, "What you just did is exactly how I felt when I did this jump in China."
When you were told you'd be playing Johnny Utah in Point Break remake, what was your first reaction?
Wow, I was actually quite silent. I was in shock a bit. Getting asked to be Johnny Utah – I couldn't believe it. I certainly didn't take it lightly. I felt the responsibility and the love for that movie. I was so happy that I got to be the one who got to do it because I loved it so much. I had a big smile on my face. My friend was with me. I had got off the phone, was kind of quiet and my mate was like, "How did it go?" and I was like, "I'm Johnny Utah, bro!"
Did you have any apprehensions?
Yeah, absolutely. I have apprehensions before anything. Every job I get is kind of terrifying. And I hope it always is. It makes me work hard. I know exactly how little I know (Laughs). That really kind of helps me in a way. But once I talked to the director and read the script, I knew this was the only way to do it.
What did you like most about playing Johnny?
I liked that I he is so driven and focused that kind of breaks out the fear for him. That really helped me. I remember just before I went over the edge at Angel Falls and do that rock climbing bit, I was pretty cool and calm and then suddenly I've got the harness on and I'm strapped in and they go, "Okay Luke, over you go." Suddenly my heart starts going 20 miles an hour and I'm like, "What am I about to do? Really? Am I about to do this?" I tell myself, "Okay, mate, you're Johnny Utaaaahhh, go over that edge!!!" You know what I mean?
That's hilarious and insane! So you were really close to the action?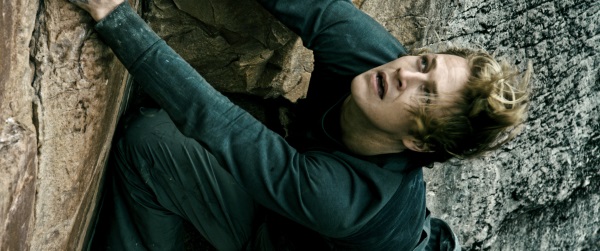 Yeah, pretty close. (Laughs) Right up until the pros go off the edge. That rock climbing, the last few meters off the Angel Falls in Venezuela, that was me hanging out there!! I did the towing around, the surfing in Teahupoo, I did everything up until letting go of the rope. I got to do a bunch of tumbling in the big surf – that was about six hours of being in a rollercoaster getting absolutely thrown around in Tahiti – that was awesome. Just before the wingsuiting, when you see us standing on that cliff, we are standing on that cliff! (Laughs) I actually got kind of comfortable up there after a while. The first couple of times you kind of don't even want to look at it. After we spent couple of weeks on top of the mountain, we get a bit comfortable. But still, one lookout and a gust of wind and you're not so sure then. (Laughs) It was kind of cool getting close to it.
When it came to these stunts, which one was the most memorable experience for you?
I'd say probably seeing the wave break at Teahupoo. It's such a beautiful and ugly thing at the same time. You don't want to get anywhere near it but it' so gorgeous. It's such an amazing experience to see the power of nature in that way in such a confined and close proximity. Also, watching the wingsuiters was cool. Standing on the edge as they jump off and you can't believe you saw just that. They fall off for about four seconds and you're like, "Oh God! Oh God!" Only one person has done that before – that crack that they go through. But to have four people flying in formation – it's never been done. You're never seen sports like this before.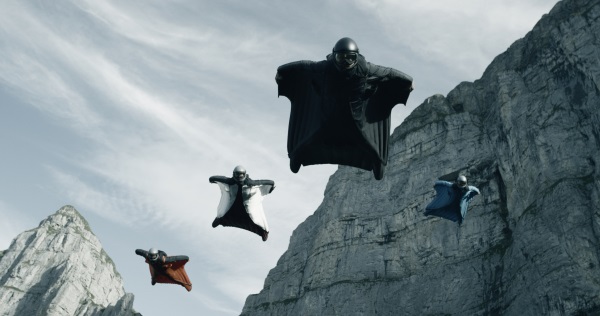 Now that you've seen these death-defying stunts up close, if you could, which one would you attempt?
I'd say surfing, I'm happy with the surfing. I'd love to experience the wingsuit flying but I'd never try it because (laughs) I want to live. I think it would be the most exhilarating thing – proximity flying.
Johnny pushes himself and is constantly testing his limits. What was the last thing you did to test your limits?
Make this movie! (laughs) Seriously. It was hard; the pressure of it, the schedule was insane. We went to four continents in six months and I'm not allowed to get sick. Then having the energy for all the scenes, knowing the lines, staying fit and healthy and not getting injured – the whole movie was a real test for me. When I got to the end of this movie I was caught emotionally, physically and creatively. I was just absolutely drained. I was lucky I got to go to Australia in December and sat on the beach for a month. I got to spend Christmas and New Year with my family and friends.
Bodhi, the anti-hero, is quite pragmatic and believes everyone is responsible for his own choices. No apologies, no regrets. What do you think?
I think you have to take responsibility for yourself but at the same time everyone has got a responsibility to society and world. So it's finding that mix between the two. Bodhi thinks he has found that. I'm kind of Utah's side and don't think the end justifies the means and people being hurt. I like the idea of having a responsibility to yourself and your environment around you but you've also got a responsibility to your fellow man. It's a dream, isn't it? If we could all just live together and be happy. I'm not so naive to believe we'll all be holding hands but I'm a glass half full kinda guy. This movie comes at a pretty good time, it's got a bit of a message environmentally and with the Paris climate conference happening right now. There are some crazy things happening in the world but I have faith in humanity. I think we'll be alright.
You'll be starring in the Mel Gibson film Hacksaw Ridge. What can you tell us about that?
That was pretty amazing. I got to work with Mel Gibson. That was sick. It's about a guy called Desmond Doss. He was a medic in World War II and the first conscientious objector to win the Congressional Medal of Honor. He refused to carry a weapon – not even a knife or a gun during battle. He single-handedly saved 75 guys in the most amazing act of heroism. I couldn't believe I hadn't heard the story before. But it's a true story and Andrew Garfield plays Desmond. I get to play the guy carrying the gun. We butt heads in the start but we realize that we are similar people and we become good friends. I get to play a pretty cool dude and to have Mel Gibson come and give you tips on that was amazing.
What else is next for you?
Christmas with my family and my girlfriend in Australia.
Thank you so much for chatting with us.
Thank you! Lovely to meet you.
~Marriska Fernandes
Point Break opens in theatres on December 25.
---
---
---
---
Similar Articles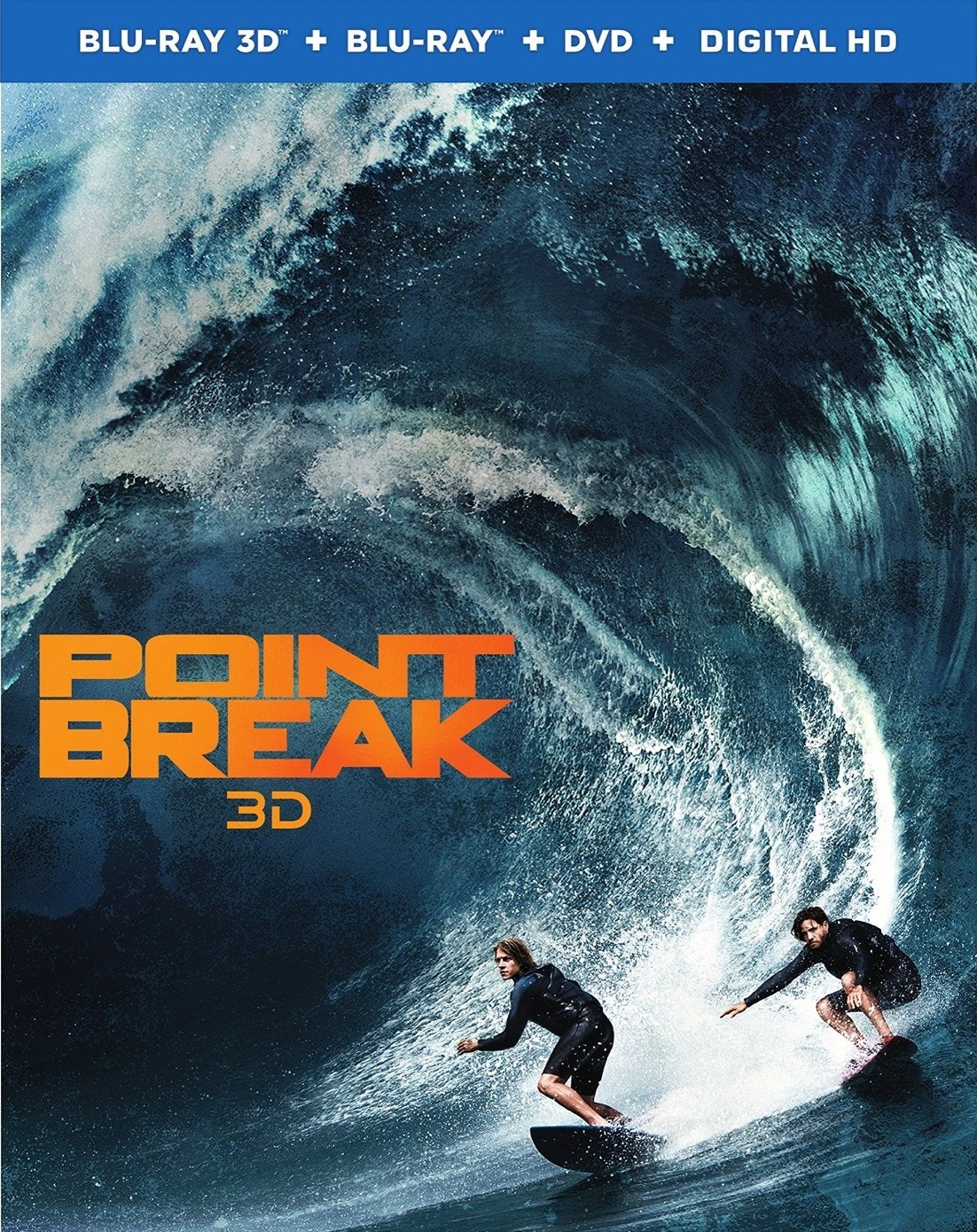 March 29, 2016 | 2 Comments
Check out our 3D Blu-ray/DVD review of the action remake Point Break, starring Luke Bracey, Edgar Ramirez, Ray Winstone and Teresa Palmer.
---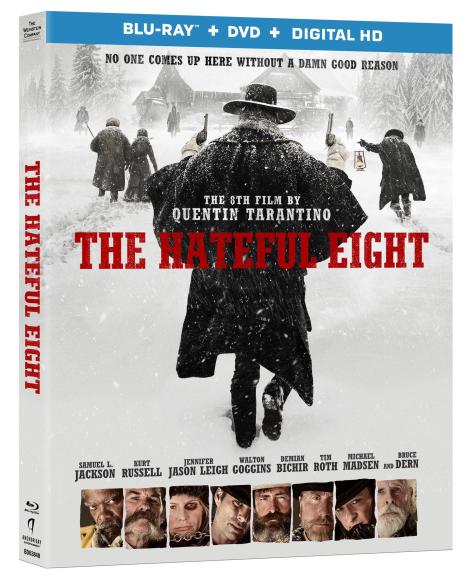 March 29, 2016 | Leave a Comment
Quentin Tarantino fans are faithful and passionate, and they'll surely be racing to grab their copy of his latest film, The Hateful Eight, out on DVD this week. Other films on the list of DVD releases include Will Smith's Concussion and the remake of Point Break.
---
---