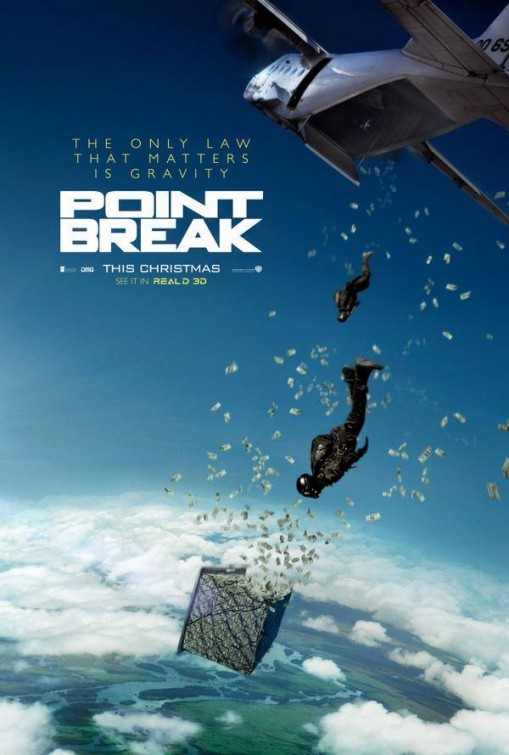 Like a beautifully wrapped gift you weren't supposed to find, get ready to sneak a peek at this week's new trailers. Action thriller Point Break takes you on a trip to the wild side, while Knock Knock shows you how doing the right thing can go horribly wrong. Ready or not, let's jump right in and preview these upcoming films. ~Andree Rhooms
1) Point Break
4) Black Mass
5) Knock Knock
6) Dope
7) The Diary of a Teenage Girl
Adrenaline junkies be prepared. Point Break is a high intensity action film that pushes it to extreme levels. A team of exceptionally trained individuals are wanted for a series of crimes committed internationally. FBI agent Johnny Utah (Luke Bracey) must go on a covert mission with the hopes of gaining their trust and putting a stop to their crime spree.

Halloween goes from scary to deadly in the horror movie Berkshire County. When a teenage girl accepts a babysitting gig, she expects to be visited by the odd monster looking for candy and treats. But when a little boy in a pig mask shows up, trick-or-treat turns into a fight for survival.

When four people (Miles Teller, Kate Mara, Michael B. Jordan, Jamie Bell) transport to an alternate universe they have no idea what's in store for them. They receive a remarkable set of powers and must work together to save Earth from a friend turned enemy in Fantastic Four

Black Mass is based on the true story of Irish mobster Whitey Bulger (Johnny Depp). Bulger decides to become an FBI informant in order to get rid of the Italians that have invaded his turf. The deal takes an unexpected turn and transforms Bulger into the kingpin of Boston.

Evan Webber (Keanu Reeves) is a happily married man whose wife and kids have gone away for the weekend. When two young women turn up at his door asking for help he just wants to do the right thing. He invites them inside and soon realizes he is the subject of a seductive and sinister game in Knock Knock.

Dope is the story of a teenager named Malcolm trying to figure out who he is. His tough Los Angeles neighborhood presents a number of challenges that pressure him to make choices that will determine his life's path.

The transition into adulthood can be complicated to say the least. In The Diary of a Teenage Girl, 15-year-old Minnie keeps a record of all the important moments in her life including losing her virginity to her mother's boyfriend. Based on the novel by Phoebe Gloeckner.

Based on the true story of an American chess prodigy, Pawn Sacrifice chronicles the life of Bobby Fischer (Tobey Maguire). When Fischer challenges Soviet champion Boris Spassky (Liev Schreiber), the tension between two nations result in the most-publicized chess match in history.

After two decades in England, Bill Bryson (Robert Redford) has returned home to American soil. In an attempt to become reacquainted with his country, Bill teams up with his old friend Stephen Katz (Nick Nolte) and they set off on a journey to hike the Appalachian Trail. A Walk in the Woods is based on Bill Bryson's book "A Walk in the Woods: Rediscovering America on the Appalachian Trail."

The End of the Tour is a true story based on an interview between reporter/author David Lipsky (Jesse Eisenberg) and renowned novelist David Foster Wallace (Jason Segel). The interview took place directly before the release of Wallace's 1996 novel, Infinite Jest, and spawned an intense relationship between the two men. Based on Lipsky's memoir, "Although Of Course You End Up Becoming Yourself: A Road Trip With David Foster Wallace."