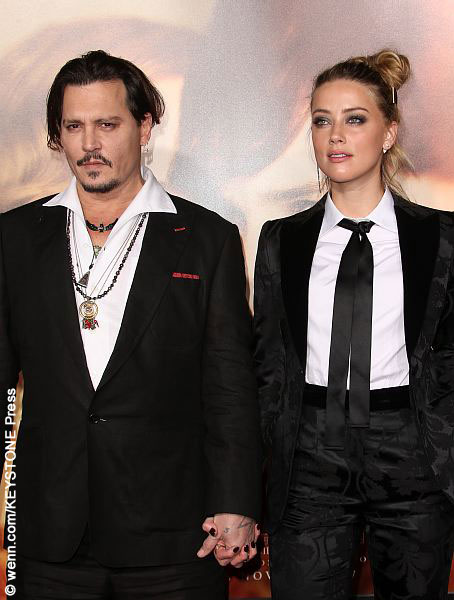 According to the two Los Angeles Police Department officers who came to Amber Heard and Johnny Depp's home on May 21, there were no signs of any injuries on the actress.
The police officers had a meeting with superiors on the afternoon of May 31 and revealed they weren't aware that Amber's husband was Johnny Depp. She didn't name him during their visit or on the 911 call and the only information they had was that there was a domestic dispute.
When Amber answered the door, she told them there had only been a verbal argument and denied that there was any physical harm or threats. She opened the door a crack initially, but the police insisted on coming inside to make sure she wasn't being threatened. Once inside, they looked her over and saw no bruises, marks or swelling on any visible part of her body. They did not see her husband.
Sources connected to the actress claim Amber's injuries became visible only later, but TMZ contacted two doctors for their expert opinions. The doctors both said if an iPhone had been thrown at Amber and hit her, there would have been immediate swelling and bruising, enough to be visible. Amber has also since claimed in legal documents that Johnny "pulled her hair, struck her and violently grabbed her face." This week's issue of People magazine shows a photo of Amber with a bruised eye and cut lip, which she also claims were caused by Johnny.
Amber, seen here with Johnny at The Danish Girl premiere last November, wants $50,000 a month in spousal support from Johnny. She reportedly earned $259,876 last year from her work in films, but after expenses, was left with only $51,461. Although court documents show she earns an average of $10,000 per month, she spends $43,700 a month. That includes $10,000 a month on rent, $10,000 on "entertainment, gifts and vacations," $2,000 on clothes, $2,000 on groceries, $2,000 on "eating out," $1,000 per month on utilities and $300 on laundry and cleaning. She also reported another $10,000 a month on "miscellaneous" costs such as pet supplies, pr and agent and a whopping $500 on charitable donations.
Hopefully Amber, who has roles in the upcoming big budget movies The Justice League Part One and Aquaman, is earning more for these films that her previous movies, because media reports say it's looking doubtful that spousal support of $50,000 for a marriage that lasted only 15 months will be approved by a judge.