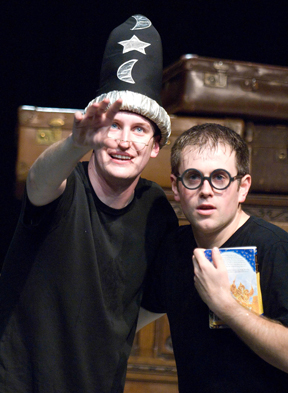 Toronto audiences are enjoying Harry Potter in a way they've never experienced before.  Harry Potter madness has hit the city, as the live show Potted Potter recently made its way from the West End in London. The show is the brainchild of Daniel Clarkson and Jeff Turner — who have combined all seven Harry Potter books into a 70-minute parody that premiered in 2006 in the UK. It features 365 characters that appear throughout the popular books and even includes a live game of Quidditch involving the audience. Bonnie Laufer from Tribute caught up with Dan and Jeff, who will next embark on an international tour. 
Congratulations on your success. This not only appeals to Harry Potter fans, but also to people who know nothing about the franchise. Were you concerned about reaching the broadest audience possible?
J.T.  We were quite fortunate that Dan was a huge Harry Potter fan — I hadn't read the books so when he came to me with the idea of putting this show together it was important to make it entertaining but give enough information as possible so everyone could enjoy it. As we started writing I began reading the books but seeing how I knew nothing and he knew everything it was easy to find a balance between the two.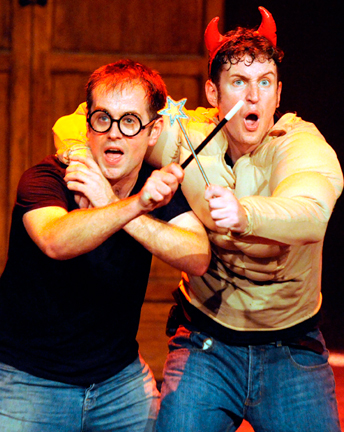 Jeff, you've got the easy job in this show. You only play Harry Potter. Poor Daniel here plays ALL the rest of the characters, about three hundred to be exact. How did that come about?
D.C. Well the simple answer is that I own all the hats and I don't share. Jeff, however, does have a striking resemblance to Daniel Radcliffe, who of course played Harry in all of the films.
J.T. You can imagine how difficult my life has been with all the teenage girls stopping me in the streets, wanting an autograph.
D.C. I do the same for Johnny Depp actually; people are mixing us up all the time.
How did you decide to put together a show about Harry Potter?
D.C. Originally this all started because of the launch of her sixth book. One of the London book stores on Oxford Street asked us to do something unique for it. They arranged to have owls fly in at midnight to deliver the books and they came to us and asked what we could do to accompany that. To be honest, I just wanted to see the owls, but we came up with the idea of performing the first five books in five minutes so that was totally approved. Since the Potted Potter show has taken off both in London and here in Toronto, we have been in touch with her people and some of her team has actually come to see the show and we've only heard positive feedback.
I understand that J.K. herself actually showed up to see the show, but couldn't get in?
J.T.  The first time we took Potted Potter to the Edinburgh Festival back in 2006, we were in a 65-seat house and the show literally sold out in minutes due to a nice review we had been given.  After one show, a young box office girl came to us sheepishly and told us that a woman had come to buy tickets but she had to turn her away because we were sold out. She later found out it was J.K. Rowling and felt pretty bad about it.
Has anyone associated with the films seen the show?
D.C.  There have been a few people and everyone has given us positive feedback, like Warwick Davis who plays Griphook, Evanna Lynch who plays Luna Lovegood and Professor Flitwick.
Has there been interest from Daniel Radcliffe, Rupert Grint or Emma Watson?
D.C. No, but we have had some of the actors who were at Hogwarts and they liked it but were upset their characters didn't make the show. So far Daniel hasn't come; he knows about it though.
J.T. When he was in Equus his director came to see the show and Daniel was supposed to come as well, but opted not to. I know that the director came back to him with rave reviews, but we understand why he wouldn't want to be noticed in the audience and have people come after him.
Did you find you had to adapt that show in any way for Canadian audiences?
D.C. To be honest we didn't have to do too much, just some pop culture references really. For example, we do a joke about hair removal cream. In England we call it IMAC and when I said it on stage here it didn't go over too well. So someone said, say Nair and immediately everyone here recognized that and the joke worked perfectly.
J.T. The Canadian audiences have been truly awesome. We were told by a couple of friends here in Toronto to expect quite reserved and low energy audiences, but we have found quite the contrary. Every night people are laughing, clapping, participating beyond our wildest dreams. It's been a fantastic experience all round.
You play Quidditch with the audience, where you bring a couple of kids on stage to lead the audience in the game. Does that get scary some nights?
J.T. We love bringing up the kids — that is our favorite part. Obviously the show is never the same two nights in a row and we like to keep it fresh for ourselves, too. Dan likes to mess with me to keep me on my toes so sometimes I have no idea what is coming. The Quidditch game is different every night because we just don't know how the audience will respond.
D.C. I love it when we bring up the kids and I ask them if they've seen the snitch and they say yes. I can really play off that. We've been very lucky, we've gotten some absolute gems on stage and they really have a great time with it. It just makes it so much more fun too. They say never work with children, animals and chocolate cake — but it seems to be working out for us quite well.
Dan, you play so many characters, do you have a favorite?  
D.C. I love our interpretation of Voldermort and it's just so funny to see how he evolves in the show. He's a character that I love anyway because here you have this guy who is so evil, so reviled and the darkest wizard there is, and he keeps getting defeated by this 11-year-old boy wizard. I mean really, how can that be? That's not going to be good for your ego; you kind of have to feel sorry for the guy. He's got all these great plans and this child comes along and takes him out. I'd have a complex if I were the guy.
I will be talking to Ralph Fiennes in a few weeks, is there anything you'd like me to ask him or tell him on your behalf?
D.C. Tell him I like his nose. His Voldemort nose. (laughs) I think he is just an amazing actor. I am also found of Alan Rickman, who plays Snape. We were in Edinburgh a few years ago, and he was there promoting a film. So after a few butter beers, I actually went up to him and said, he we have something in common. You play Snape and I play Snape. He kind of looked at me and said that's nice and quietly walked away. I can't believe I did it and I sort of regretted it but it was fun.
So what is the next step for this show?
J.T. It looks like we will be going to New York to perform the show off Broadway, so we are terribly excited for that as I have never been there.
D.C. We really are two very good friends, messing around having a great time doing this so as long as we can get away with it before someone realizes, we're just so grateful.
J.T. We started with the Edinburgh festival which was very small, then we toured the U.K for a few weeks, then we took the show to the West End and performed in front of bigger audiences but had a very small budget. Then a producer saw that show and asked us if we would like to bring it to Toronto. We get here to find out that we are filling a large house and there are so many people helping us out and have been so kind it just blows us away. Someone will tap us on the shoulder one day and say you're having too much fun.
There's no doubt that you will get a few celebrities coming to the show in New York. Is it intimidating when someone famous is in the audience?
J.T. We do like to know, but it doesn't really bother us.
D.C. I think the only time I would be star struck is if J.K. Rowling were there, the queen herself. That would intimidate me for sure.
J.T. You'd just go get your books and have her sign them all!
Heading into the March break, this is a perfect show for families to enjoy together.
J.T. Family theater isn't something that seems to exist that much anymore and this is a perfect show for everyone to enjoy together, have a good laugh and have a great time. Anyone at every age can enjoy this show and you don't have to be a Harry potter fan to enjoy yourself.
D.C. It's all seven books, in 70 minutes AND you get to play Quidditch. Where on else on earth can you go to get that kind of experience?
Potted Potter is on stage at Toronto's Panasonic Theatre until March 25th.