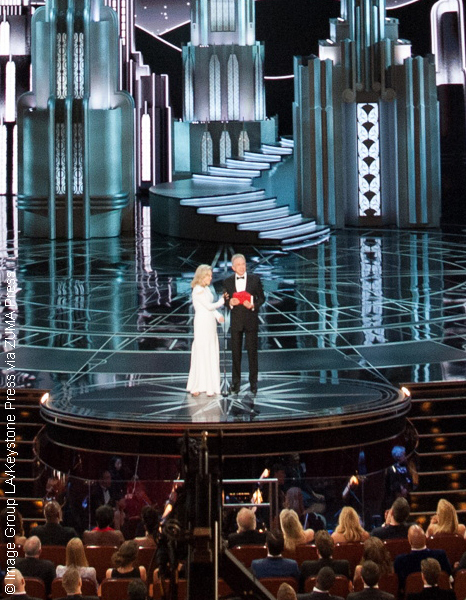 PricewaterhouseCoopers (PwC) has apologized for the mistake seen around the world during last night's Academy Award broadcast when the wrong movie was awarded the coveted Best Picture Oscar.
The statement reads: "We sincerely apologize to Moonlight, La La Land, Warren Beatty, Faye Dunaway, and Oscar viewers for the error that was made during the award announcement for best picture."
The world-renowned accounting firm has been tallying the votes and supervising their delivery for cinema's most celebrated ceremony for 83 years, and never has anyone seen a mix up like this.
In case you missed it, Warren Beatty and Faye Dunaway were tasked with awarding the Best Picture Oscar, but they were handed the wrong envelope — one that contained the Best Actress winner, which was Emma Stone for La La Land. Warren hesitated and passed the envelope to Faye, who upon seeing the name of the film, mistook it as the winner for Best Picture and read it out loud.
The cast and crew of the film arrived on stage and began to accept the award when it was revealed a mistake had been made and that the wrong card was read — Moonlight was the actual winner for Best Picture.
Ironically, PwC supervisors Brian Cullinan and Martha Ruiz had just given an interview to the BBC days earlier explaining what was supposed to be the foolproof system. A duplicate card of each result is made in case anything happens to the presenter and the card they are given. Ruiz and Cullinan each get their own full set of the results and put the cards into their envelopes in addition to memorizing the winner of each category in case something should happen to the cards. The envelopes are locked in a safe until the day of the awards ceremony, when they are then put into briefcases and transported by Cullinan and Ruiz separately under security protection to the ceremony. They then wait offstage and hand the envelope to each presenter just before they walk on stage.
It's unclear how Warren was handed the duplicate envelope for Best Actress instead of the result for Best Picture, but you can be sure it will be intensely investigated. Regardless, this really does feel like something that could only happen "in the movies."
You can see the full list of winners here.
What was your reaction when it was revealed the wrong winner was read? Tell us below! ~Alexa Caruso