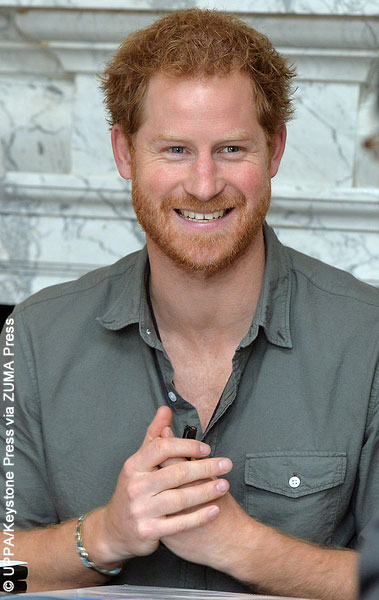 Almost 20 years after Princess Diana's tragic death, her son, Prince Harry, is finally opening up about his late mother.
The 31-year-old royal sat down with Good Morning America's Robin Roberts this morning to speak about Diana, as well as his various philanthropic endeavors, including his role as patron of the Invictus Games, a Paralympic-style, multi-sport event featuring wounded, injured or sick armed services personnel, which will be held in Orlando, Florida in May.
"Weirdly, my first time to Florida—to Disney World—I ended up going there with her," he said of Diana. "It was one of my very, very happy memories. I went on Space Mountain 14 times…It was the best thing ever. So, you know, there's all sorts of places all over the world where we were very lucky to have those moments with our mother."
He also revealed what he thinks his mother would make of the man he has become.
"I hope she's looking down with tears in her eyes, being incredibly proud of what we've established, I suppose," Prince Harry said, speaking in reference to Sentebale, a charity he co-founded with Prince Seeiso in Diana's honor in 2006. The charity helps children in Lesotho, Africa — many of whom have AIDS. Earlier this year, he visited the Mildmay Hospital, the facility where Diana famously kissed AIDS patients, an act that completely changed the way the world saw the disease.
Harry's brother, Prince William, has two children with wife Kate Middleton — two-year-old Prince George and 10-month-old Princess Charlotte — a step he believes Diana would want him to make soon.
"I'm sure she's longing for me to have kids so she can be a grandmother again, but I hope that, once again, everything we do privately and officially, that it makes her proud," he said.
When asked how his mother's untimely death affected him, he said, "I think losing your mother at such a young age, does end up shaping your life, massively. Of course it does. And now I find myself trying to be there and give advice to other people who are in similar positions."
Harry, who is also involved in Diana's landmine charity, Halo Trust, said continuing Princess Diana's legacy is of the utmost importance to him and William.
"We do everything we can to make sure that she's never forgotten and carry on all of the special gifts, as such, that she had and that she portrayed when she was alive," he said. "I hope that a lot of my mother's talents are shown in a lot of the work that I do." ~Shelby Morton