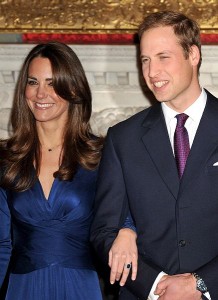 It was only a matter of time until someone made a movie based on the fairytale romance between Prince William and Kate Middleton. Fans of the royal couple, who are to be married this spring, won't have to wait much longer.
U.S. network Lifetime has announced that a film is in the works focusing on their whirlwind romance. The movie's producers said it would chart "the ups and downs of their nine-year courtship complicated by social and royal family pressures," right up to their recent engagement. Lifetime also revealed that the movie would chronicle the couple's history "from the moment the two students met at Scotland's prestigious University of St Andrews," as well as the "intense global media attention surrounding their storybook nuptials."
The movie is due to air a week before the royal wedding and the roles of William and Prince Charles have been cast. New Zealand native Nico Evers-Swindell is set to play William (NCIS: Los Angeles and Law & Order) and Star Trek's Ben Cross will play Prince Charles. The role of Kate is still up for grabs.
Who do you think should play Kate Middleton?