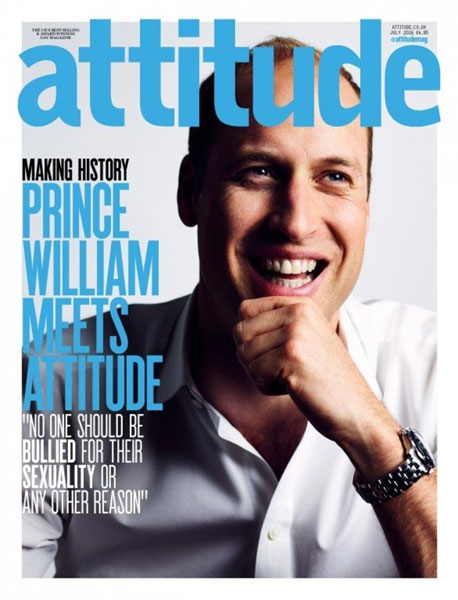 At a moment when the LGBTQ+ community needs all the advocacy and support it can get, Prince William has become the first member of the Royal family to appear on the cover of a gay magazine.
Days before the deadliest mass shooting in U.S. history unfolded at an Orlando gay nightclub, the heir to the throne posed for the U.K. magazine Attitude.
Aside from smiling for the camera, the Duke of Cambridge chatted with nine members of the LGBTQ+ community about their experiences as victims of bullying. The individuals who shared their stories spoke about the ridicule and ostracism they faced at school, online and in everyday life as a direct result of their sexual orientation and gender identity.
It was William who reached out to the publication, not vice versa. He asked to interact with members of the LGBTQ+ community and once they were selected, invited them (and Attitude) to Kensington Palace. As he and his wife, Kate Middleton, have become increasingly focused on improving mental health and social acceptance, he was keen on discussing the implications of bullying and how to prevent it.
When reflecting on the issues raised and his exchanges with the LGBTQ+ group, the Duke of Cambridge said, "No one should be bullied for their sexuality or any other reason and no one should have to put up with the kind of hate that these young people have endured in their lives. The young gay, lesbian and transgender individuals I met through Attitude are truly brave to speak out and to give hope to people who are going through terrible bullying right now."
He added, "Their sense of strength and optimism should give us all encouragement to stand up to bullying wherever we see it."
William, 33, also offered some advice. He said, "What I would say to any young person reading this who's being bullied for their sexuality: don't put up with it — speak to a trusted adult, a friend, a teacher, Childline, Diana Award or some other service and get the help you need. You should be proud of the person you are and you have nothing to be ashamed of."
Current research figures show that 33.9 percent of young lesbian, gay and bisexual people have attempted suicide at least once. That number climbs to 48.1 percent for young trans people. Compared to 17.9 percent among the straight population, it's clear this is an issue that demands attention.
Matthew Todd, editor of the publication, was pleased to have William's support. He said, "I am very happy that the future King of the United Kingdom agrees this must stop and I would urge parents in particular to raise their voices in their communities to ensure that every school protects — really protects — all children."
The issue of Attitude featuring William on the cover is available online now and will hit stands next week.