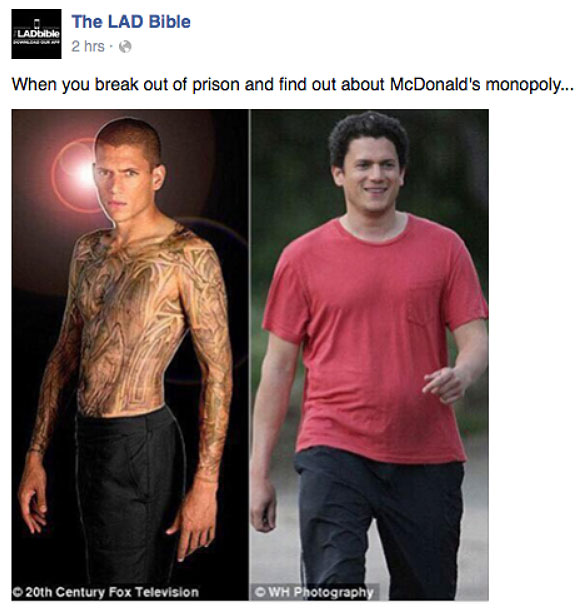 Prison Break star Wentworth Miller decided to put a stop to a fat-shaming meme by sharing The LAD Bible's social media post along with a message revealing his depression. His message on his Facebook page revealed: "Today I found myself the subject of an Internet meme. Not for the first time. This one, however, stands out from the rest." He goes on to reveal his struggle with depression since childhood. During the lowest point in his life, he took comfort in food.
He explained: "I've struggled with depression since childhood. It's a battle that's cost me time, opportunities, relationships, and a thousand sleepless nights. In 2010, at the lowest point in my adult life, I was looking everywhere for relief/comfort/distraction. And I turned to food. It could have been anything. Drugs. Alcohol. Sex. But eating became the one thing I could look forward to. Count on to get me through. There were stretches when the highlight of my week was a favorite meal and a new episode of TOP CHEF. Sometimes that was enough. Had to be. And I put on weight. Big f–king deal."
The internet meme had two images of him side by side, one from his Prison Break days compared to a recent image while he was on a hike. The LAD Bible, which describes itself on its website as "one of the largest communities for guys aged 16-30 in the world" and asks people to send them their "funny pictures and video,s"  has since apologized for the fat shaming post.
Wentworth's post is a reminder that people should think twice before ridiculing anyone. This is not the first time the actor has voiced his struggle with suicide. In 2013, the Legends of Tomorrow star revealed he first attempted suicide when he was 15. He had tried to kill himself multiple times when he was a teenager.
He concluded his response to the fat-shaming post: "The first time I saw this meme pop up in my social media feed, I have to admit, it hurt to breathe. But as with everything in life, I get to assign meaning. And the meaning I assign to this/my image is Strength. Healing. Forgiveness. Of myself and others. If you or someone you know is struggling, help is available. Reach out. Text. Send an email. Pick up the phone. Someone cares. They're waiting to hear from you. Much love. – W.M."