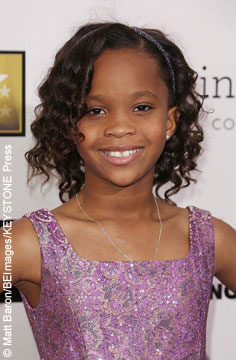 Quvenzhané Wallis doesn't want to grow up. The 11-year-old actress – whose performance in Beasts of the Southern Wild saw her become the youngest-ever Best Actress Academy Award nominee at just nine years old – feels younger than her years because she enjoys her life so much.
She said: "I feel like I'm five sometimes, because I still enjoy myself. I enjoy what I do. I don't want to grow up, but I know it's not going to last much longer."
Quvenzhané can next be seen in the lead role of an updated version of Annie and thinks she has a lot in common with the famous orphan because they are both confident and determined.
She told the new issue of Britain's ELLE magazine: "I just keep doing what I'm doing and don't ever give up. That's what I like about Annie. If she has goals, she'll finish them, like me. We're both confident."
Jamie Foxx stars with the young actress in Annie and was astounded by her talent.
He said: "She brought so much talent and charisma to set that it really allowed me to get lost in the story of these two characters who are trying to navigate their lives in New York City. Quvenzhané was made play this role. I'm convinced it was in her DNA."