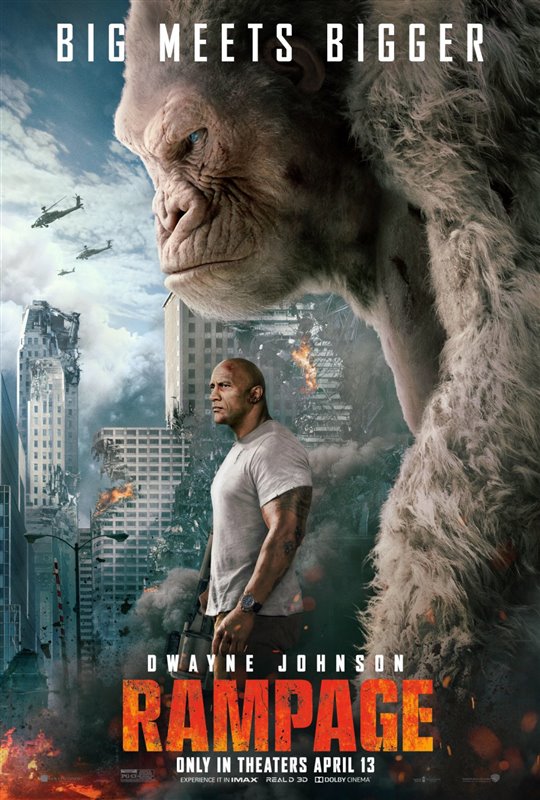 This past weekend, two new films made their way to the top five at the box office. Dwayne Johnson and his gorilla buddy tore up the box office with Rampage, while Blumhouse's Truth or Dare, the horror movie that fans were looking forward to, also enjoyed good numbers.
A primatologist (Dwayne Johnson) with a close bond to a silverback gorilla has to come to the rescue when the gorilla is infected by a serum in Rampage. The film earned an estimated $34.5 million and users gave it a rating of 4.2 stars.
Dropping to second place was A Quiet Place. John Krasinski and Emily Blunt star as parents who try to keep their children safe from creatures who hunt by sound only. It took in an additional $32.6 million for a domestic total of $99.6 million. Our users rated it 4.3 stars out of 5 stars.
Blumhouse's Truth or Dare took the third position. It follows a group of friends (Lucy Hale, Tyler Posey, Hayden Szeto) who are lured into a game of Truth or Dare that turns out to be deadly. The film earned $19 million and has a user rating of 3 stars.
Scooping fourth spot was Ready Player One, about a teen (Tye Sheridan) who wants to take over an immersive virtual universe called the OASIS. It earned an additional $11.2 million for a domestic total of $114.6 million and has a rating of 4.4 stars from our readers.
Rounding out the top five was the raunchy comedy Blockers, about three parents (Leslie Mann, Ike Barinholtz, John Cena) whose daughters are set to attend prom. It earned an extra $10.3 million for a gross domestic total of $36.9 million and a rating of 3.7 stars.