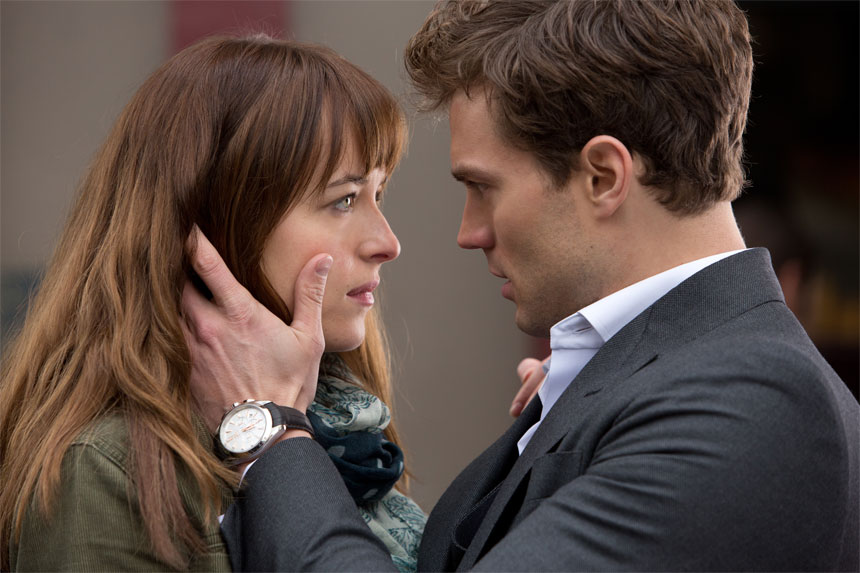 Tomorrow, the Academy will honor the year's best in film. Today, the Razzies honored the worst. The 36th annual Golden Raspberry Award nominations were announced this morning and it's a roster filled with a few surprise nods – as well as a few not-so-surprising ones.
The erotic drama Fifty Shades of Grey leads the pack with a total of six Razzie nominations, including Worst Picture, Worst Actor for Jamie Dornan, Worst Actress for Dakota Johnson, Worst Screenplay and Worst Director for Sam Taylor-Johnson. For a movie that is solely reliant on the chemistry between its two leads, the Worst Screen Combo nomination is sure to be the hardest pill to swallow.
But the BDSM screen gem isn't alone in its awards glory – the animated feature Pixels is tied for six nominations, including the fifth Worst Actor nod in a row for Adam Sandler (a double nominee for his work in The Cobbler), Worst Supporting Actor for Kevin James (also nominated for Worst Actor in Paul Blart: Mall Cop 2), Worst Director and Worst Picture.
The Razzies switched it up a little this year; adding inanimate objects to its roster, nominating Razzie darling Adam Sandler for Worst Screen Combo alongside "any pair of shoes," Kevin James alongside either his "Segway or glued-on mustache" and Mortdecai's Johnny Depp opposite his own "glued-on mustache."
Last year's Best Actor Oscar winner Eddie Redmayne can add a Razzie nominee to his impressive resumé, snagging a Worst Actor nod for his work in the sci-fi masterpiece and Worst Picture nominee Jupiter Ascending (also with six nominations).
The reboot of Fantastic Four and other six-time nominee Paul Blart are the final two films included among the Worst Picture nominees.
The "winners" of the Golden Raspberry Awards will be announced February 27. ~Shelby Morton
Here's a full list of nominations:
Worst Picture
Fantastic Four
Fifty Shades of Grey
Jupiter Ascending
Paul Blart Mall Cop 2
Pixels
Worst Actor
Johnny Depp, Mortdecai
Jamie Dornan, Fifty Shades of Grey
Kevin James, Paul Blart Mall Cop 2
Adam Sandler, The Cobbler and Pixels
Channing Tatum, Jupiter Ascending
Worst Actress
Katherine Heigl, Home Sweet Hell
Dakota Johnson, Fifty Shades of Grey
Mila Kunis, Jupiter Ascending
Jennifer Lopez, The Boy Next Door
Gwyneth Paltrow, Mortdecai
Worst Supporting Actor
Chevy Chase, Hot Tub Time Machine 2 and Vacation
Josh Gad, Pixels and The Wedding Ringer
Kevin James, Pixels
Jason Lee, Alvin and the Chipmunks: Road Chip
Eddie Redmayne, Jupiter Ascending
Worst Supporting Actress
Kaley Cuoco-Sweeting, Alvin and the Chipmunks: Road Chip and The Wedding Ringer
Rooney Mara, Pan
Michelle Monaghan, Pixels
Julianne Moore, Seventh Son
Amanda Seyfried, Love the Coopers and Pan
Worst Remake or Sequel
Alvin and the Chipmunks: The Road Chip
Fantastic Four
Hot Tub Time Machine 2
Human Centipede 3
Paul Blart Mall Cop 2
Worst Screen Combo
Miles Teller, Michael B. Jordan, Kate Mara, and Jamie Bell, Fantastic Four
Johnny Depp and his glued-on mustache, Mortdecai
Jamie Dornan and Dakota Johnson, Fifty Shades of Grey
Kevin James and either his Segway or glued-on mustache, Paul Blart Mall Cop 2
Adam Sandler and any pair of shoes, The Cobbler
Worst Director
Andy Fickman, Paul Blart Mall Cop 2
Tom Six, Human Centipede 3
Sam Taylor-Johnson, Fifty Shades of Grey
Josh Trank, Fantastic Four
Andy and Lana Wachowski, Jupiter Ascending
Worst Screenplay
Simon Kinberg, Jeremy Slater and Josh Trank, Fantastic Four
Kelly Marcel, Fifty Shades of Grey
Andy and Lana Wachowski, Jupiter Ascending
Kevin James and Nick Bakay, Paul Blart Mall Cop 2
Tim Herlihy and Timothy Dowling, Pixels
Razzies Redeemer Award
Elizabeth Banks
M. Night Shyamalan
Will Smith
Sylvester Stallone