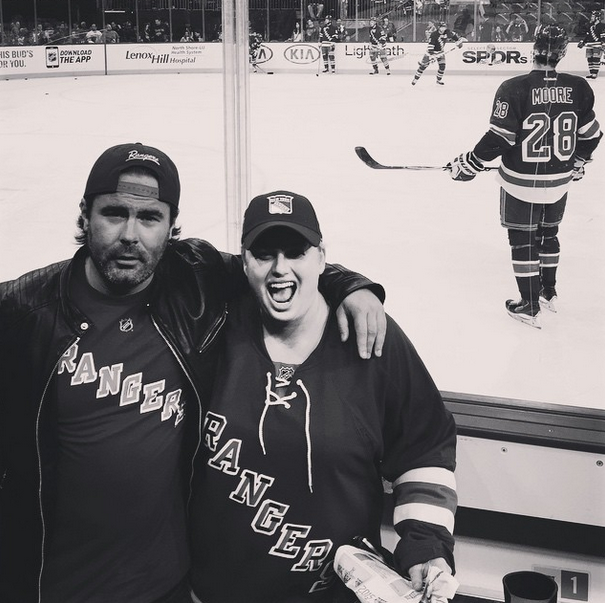 Sorry men, your chance at being with the awesome and hysterical Rebel Wilson will have to wait because the Pitch Perfect 2 star is now dating comedian Mickey Gooch Jr.
Rebel posted a photo on Instagram of the cute couple attending a New York Rangers game on Saturday with the caption "#RangerDanger Let's go NY!" The pair were both done up in the hockey team's apparel with Rebel sporting a grin from ear-to-ear.
A source told Us Weekly, "They get along really well, they respect each other's work. She's been too busy to date for awhile, they've been texting often and they've been spending some time together in L.A. and New York."
Introduced by mutual friends, the two were spotted holding hands after the game and went back to the same NYC hotel together. Mikey also reportedly supported Rebel by attending her Pitch Perfect 2 premiere in Los Angeles.
The comic couple must share a lot of laughs and they look really happy together. It is difficult to maintain a strong relationship with such busy schedules, as Rebel has previously commented.
"You have to sacrifice relationships because you work, and now I travel all around the world. I'm constantly moving and constantly travelling and so it's really hard to maintain a relationship in that kind of environment," Rebel told Elle Australia in their April issue.
She then added: "I keep that private. you have to have some private stuff, and so I've never flaunted anything or talked about anyone."
We may not hear Rebel talk about her new relationship but we are bound to see more of it in the future. Great humor is hard to come by – Mickey is one lucky dude! ~Erin Stewart