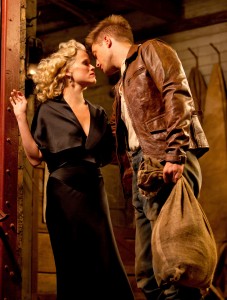 Reese Witherspoon says Water for Elephants was the greatest movie experience of her life and compares her co-star Robert Pattinson's fame to that of Leo DiCaprio in Titanic.
Academy award-winning actress Reese Witherspoon has built quite an impressive resume over her 20-year film career. From dramas to comedies—she's proven she can carry a film on her own and continues to be a favourite amongst the Hollywood set.
Personally, Witherspoon faced hard times after her marriage to Ryan Phillippe ended a few years ago. The couple shares two children together: Ava, 11, and Deacon, 7. However, she took the split in stride and took the high road when it came to the press, keeping her feelings private amongst the chatter that Phillippe had strayed from their marriage with Abbie Cornish. The self-proclaimed "type A" personality would not accept anything less than happiness and she's now found love with Hollywood agent Jim Toth.
Witherspoon has had her fair share of heartthrob co-stars and in her next movie, Water for Elephants, she falls in love on screen and under the big top with Twilight's Robert Pattinson. "He is extraordinarily attractive. I'm not gonna lie," she told MTV news. "Robert is such a great guy from a great family. That's the thing that's so funny. He's not really this bad boy; he's just a great guy and really worked hard on [the movie]. He really worked long hours, long days. He looks totally different in it."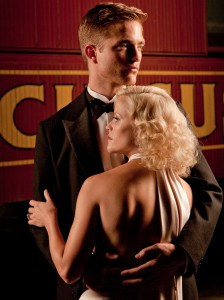 How did Witherspoon deal with all the attention Pattinson brought to the set? "The only thing I can compare it to is when Leo was in Titanic," she continued. "It was that kind of fervor about a person. The women lining up outside the set—it was just unbelievable—till 5 o'clock in the morning waiting to just glimpse him."
Based on the novel by Sara Gruen, Water for Elephants follows the story of Jacob Jankowski who, after losing his parents in a car accident, leaves veterinary school to join the Benzini Bros. circus as their vet. While there he struggles to fit in with the riff raff crowd. His one ray of light is Marlena, A beautiful womAn who performs the horse act. Jacob and Marlena become close, despite her marriage to—August the brutally-tempered head animal trainer—who abuses the animals, especially Rosie the elephant.
For Witherspoon working with the animals was the highlight of making the movie. "It was one of the best experiences of my career. I worked with Tai [the elephant] for three months just training. I had to get into shape—I had no harness, no safety equipment, nothing," she told Femalefirst.com. "It was literally just me and the elephant. I had to climb onto her. She's 10 feet tall and over 900 lbs, and it was this exercise in trust. It's a really beautiful thing where you learn to communicate with a creature non-verbally. She's the big star of the movie."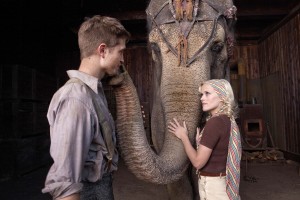 "I'm not very big and Tai is not very small. I had to learn how to step on her trunk and hurdle myself on top of her. It was very complicated. But I finally got it. It was one of my greatest accomplishments."
Witherspoon assures that the movie is not just about the circus or the animals and says there's more than meets the eye. "It's a wonderful story of love, hope, redemption, second chances and finding happiness. I got so pulled into the world Sara created. People have always wanted to have their 'day at the circus'—a joyful moment taking them outside their everyday lives. I hope that's what we've done here: create something that people will enjoy."
—By Toni-Marie Ippolito