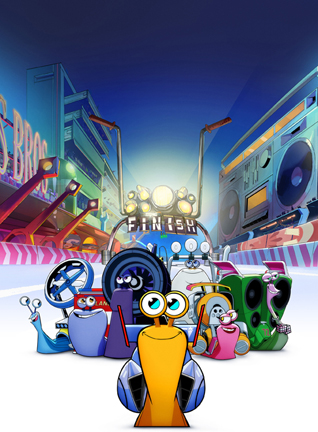 Get ready because there's a new animated TV series called Turbo FAST (Fast Action Stunt Team) making its debut on Netflix Christmas Eve (December 24). It's based on the hit animated movie Turbo, which featured Ryan Reynolds as the voice of the speedy snail. Taking over as the lead character is Reid Scott, whom you may know from his days on the soap, All My Children, and the sitcoms My Boys and Veep. Reid spoke with Tribute about his new role and what we can expect to see on the show.
What's it like to take over the lead character from Ryan Reynolds? 
At first it was a little intimidating, I guess, because I happened to see the feature in a private screening over at DreamWorks.  And I thought it was great.  And I thought that Ryan did such a fantastic job and that he had a really great voice for animation, too. But the good thing was that we weren't really looking for a voice match. It was more sort of a character match or an attitude match. So that challenge was not quite as daunting. And, it's been fun. At this point, the little subtleties and nuances in my voice and in my style, and in my approach to the character, have slowly sort of taken over. As was with the rest of the cast; so now…I would say that we really own it.  But it's still very faithful to the feature.
What new aspects or storylines can we expect to see in the series?
The feature sort of resides in the world of humans, although you see the snails' habitat and their home and everything. The series goes much deeper into their world and into them interacting with other bugs and other creatures. And while humans are still present, it's really much more about the little guys out there, the mini creatures.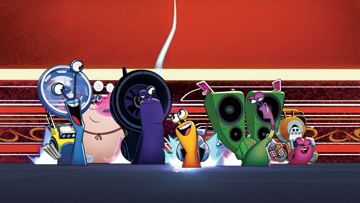 What's your favorite part of working on the show?
I'd say working with this cast, really. I mean, there's just so much talent. Eric Bauza, Phil LaMarr, everybody involved is just so funny and so talented that in the two to four hours a week that we actually get together to record, we just have such a blast.
Is there much difference working on an animated show for NetFlix as opposed to working on a live-action show like Veep?
Yes, certainly. I don't think many people know that with an animated series, each episode takes quite a long time to produce and get into shape. On a camera series like Veep, every week you're knocking out an episode. But with animation, from start to finish, it could be months for an episode really. Our side of it as the actors is really almost the smallest part. We only do a couple of hours of work per episode. So that's quite a bit different to be able to knock out a whole episode in just a couple of hours of effort. But you're using different muscles as an actor and obviously different techniques. Not being able to rely on your physicality or any sort of visual representation of yourself; it is a very different style of acting. But in a weird way it ends up being just as satisfying. The experience as a whole has been really wonderful.
You've done a lot of sitcoms – is there a difference in doing comedy for an animated show?
Doing an on camera sitcom, you always kind of want to underplay the joke and just let the joke speak for itself. Whereas in an animated series, you're encouraged to go big.  I mean, bigger is better and broader is better. Louder is better; faster is better. So I guess from an actor's standpoint, you're sort of encouraged to do all of the bad things that you didn't get to do elsewhere.  You get to exercise those demons. It's really fun because you can be a kid again. It really takes you right back to your childhood. It's a nice way to get to connect with much younger generations. I have as much fun doing it as I'm sure I would watching it, if I was a kid.
Can you tell us about the upcoming episodes and the adventures that the snails go on in the series? 
One of my favorites; and I think one of the cast's favorites is called the Clam Squatch. It's just a totally out there, and totally silly. Clam Squatch is basically like a Frankenstein monster or character that we encounter down South in Louisiana.  And the guest voices that we had were just superb and it was just so silly. It was the first episode that we hit where the writers just busted it wide open and their imaginations just absolutely ran wild. It was at that moment that we could see wow, this series is really going to go in a million different directions and they're all going to be very creative and very different. The possibilities are just endless. I think across the board, from producers to writers, the engineers, and the casts, that was one of our favorites.
Don't miss the premiere of Turbo FAST, December 24 on Netflix. ~Jennifer Yoo