February 2, 1947 – June 25, 2009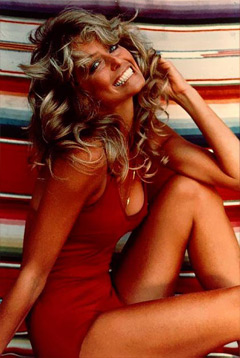 Farrah Fawcett seemed destined to be a star from early on. Born in Corpus Christie, Texas, she was voted "Best Looking" in high school. She attended the University of Texas and majored in Biology before switching to Art. After two years of higher education, Fawcett decided to try her luck in Hollywood.
By 1971 she'd appeared in shampoo commercials and had made guest appearances on shows such as The Flying Nun and The Partridge Family when she landed an appearance on Owen Marshall: Attorney at Law. After meeting Lee Marshall, one of the show's stars, the two began dating and married in July 1973. Majors went on to success as The Six Million Dollar Man, in which Fawcett (then known as Fawcett-Majors) made several recurring appearances. In 1976, Fawcett landed the role of Jill Munroe on the new Aaron Spelling series Charlie's Angels. The show was a hit and Fawcett became a major sex-symbol and pinup girl, with a poster of her (sporting her famous hairdo, which launched a national fad of copycat haircuts) in a one-piece red bathing suit selling over 12 million copies.
"If you were to list 10 images that are evocative of American pop culture, Farrah Fawcett would be one of them," Robert Thompson, a professor of television and popular culture at Syracuse University told the Los Angeles Times. "That poster became one of the defining images of the 1970s." The iconic poster was shot by Bruce McBroom.
After only a year on Charlie's Angels, Fawcett walked out on her contract. She wanted to be taken seriously and believed that her role on the series would keep her from achieving "serious actor" status. A legal battle with show's producers ensued and eventually an agreement was struck that had Fawcett appear in a handful of episodes during the second season.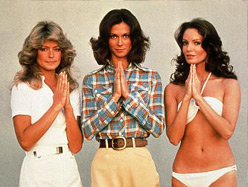 In 1979, Fawcett began an affair with her husband's best friend, actor Ryan O'Neal, whom he'd asked to keep an eye on his wife while he was on location filming. Fawcett and Majors divorced in 1980, and she moved in with O'Neal. Though the two never married, in 1985 Fawcett gave birth to their son, Redmond O'Neal. In 1991 Ryan and Farrah co-starred in a short-lived sitcom, Good Sports. At 13, Redmond began drug treatment and has since had several drug related arrests. Ryan and Farrah eventually went their separate ways in 1997—according to Fawcett, it was because of conflicts related to their different parenting methods.
Fawcett's wish to be taken seriously did not come true—at first. She starred in the films Somebody Killed Her Husband, Sunburn and Saturn 3 (1980), all of which met with critical and box-office failure. It wasn't until she appeared battered and bruised, with no makeup, that she won the critics' favor for her portrayal of a rape victim in the film Extremities (1986). She followed up with a role as an abused wife in the TV movie, The Burning Bed, for which she received her first Emmy award nomination and her second Golden Globe nod (the first was for Charlie's Angels). Over the years she was nominated for three Emmys and six Golden Globes.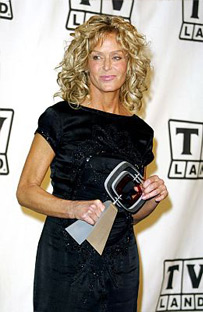 Following her breakup with O'Neal, during an appearance on David Letterman in 1997, Fawcett was the subject of controversy when her incoherent behavior seemed to indicate she was on drugs. Rumors of substance abuse and a mental breakdown swirled around the actress. In 1998 she was attacked by her then-boyfriend, director James Orr, apparently because she refused his marriage proposal. He was eventually convicted for battery.
In 2003 Fawcett was set to make her Broadway debut in the play Bobbi Boland, but it closed after only seven previews. Her last big screen appearance was in Queen Latifah's The Cookout (2004).
Fawcett maintained an on-again, off-again relationship with O'Neal after their breakup. She helped nurse him back to health when he was diagnosed with leukemia in 2001 and shortly after she was diagnosed with anal cancer in 2006, he re-entered her life.
Though Fawcett's cancer went into remission in 2007, it returned months later. She then flew to Germany for controversial embryonic stem cell treatments. Unfortunately, the treatment caused abdominal bleeding and a hematoma and she returned to Los Angeles. Fawcett was the subject of an NBC documentary, Farrah's Story, that aired on May 15, 2009. She passed away on June 25, 2009, with O'Neal and longtime friend Alana Stewart at her bedside, before she had the chance to finally marry O'Neal, who had proposed the week before.