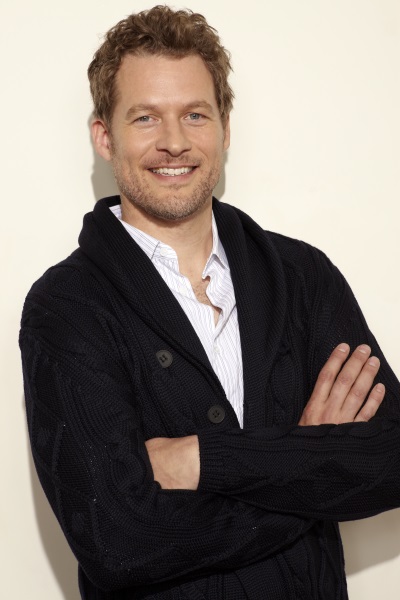 For three seasons, Emily Thorne, a.k.a. Amanda Clarke, has been avenging her father's death on the hit show Revenge. In the shocking season three finale, it was revealed that David Clarke was, indeed, alive. In season four, David's brutal past is slowly being revealed. We chatted with James Tupper, the down-to-earth actor who plays David. He discussed his return to the popular ABC drama and what fans can look forward to in season four.
How long did you know that David was coming back?
There was a rumor about it right off the bat and when I was doing press in season one everyone was like, "Are you really alive? Are you really alive?" And they were really clever because as long as the press was asking a question, I was not going to be alive. It was funny because in the third season I would tune in and it seemed like every scene or two someone would say, "That's not what David Clarke would have done." This is like the longest introduction to any character. I was really excited to come back.
In flashbacks, David's memory has been kept alive as a loving father. Have you changed your approach in how you play David after what he's been through?
Of course, yeah, I think being incarcerated that long had an enormous effect. I think it affected his internal world, I think he lived in his imagination, he lived in his mind. I think he has a struggle connecting with people and relating and getting out of his own space. It's really a fun character to do because we do flashbacks and I do them even now with the young girl and that guy is really optimistic and happy and then the next hour I'll be shooting a scene where I'm an emotional wreck and a devastated man, almost like the Count of Monte Cristo.
What kind of preparation do you do to get into the skin of this new person?
It took a while, you know. I think I just imagine, I try to make my imagination real. I worked on this idea and it kind of slowly came to me. I was working on it for a month before, then when we started filming they don't tell you what to do, you just come in and do something and then people respond to it and everyone was pretty surprised. I grew my beard out.
We did find out a bit about what happened to him, but will we get to know more about his last 20 years?
Yeah, we will. And we're going to deal a lot with Amanda. I missed out on the years that she was a child and you can't recover those, so there's the process of us rebuilding and understanding where we are. I think she probably feels abandoned as a child. Even though it's not my fault, that's what she's struggling with – having her dad back and knowing what part he's going to play. And, of course, I want her to go back to being the Amanda that she was. The other conflict this year is I think Victoria was the love of my life. Now, I realize she was part of it, an instrument in making it all happen.
Will we get to see him reunite with her?
I think that conflict is swirling, I'm not allowed to tell you.
If David had to choose between Victoria and Amanda,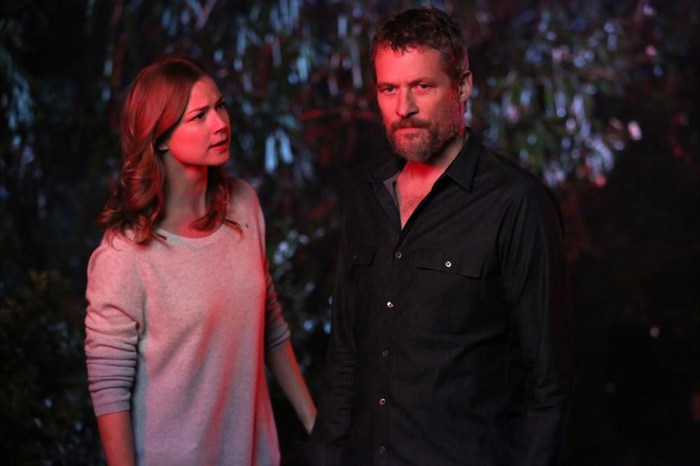 who do you think it would be?
Well, my daughter didn't do anything to me to cause my life to go off the rails [laughs]. That was an easy one.
What has been your favorite scene so far?
I like the scene in the prison when she first sees me and I'm in the line-up. I thought it was really beautifully done and she was terrific in it. I thought you could see a little bit of this 20-year gap and the effect that it had, you could see it in the images they made and in my face and then that wall between us was a great metaphor for the wall that is going to be between us.
That scene was so emotional. Amanda has been taking revenge on everyone who wronged you since season one, will we get to see the two of you team up in the future for such schemes?
That's what I want. I want to do ninja training and go on a few revenge missions! [Laughs]
What can fans expect to see in the rest of season four?
I think it's us struggling with our relationship. David has a new relationship with a girl. Courtney Love comes on the show and there's a battle with Tommy Flanagan from Sons of Anarchy. That guy comes on our show for a while. And I don't think I can tell you any more [laughs].
You've worked in television and in film, do you have a preference?
I kind of like television right now. I feel like there's innovative stuff happening. My wife Anne Heche is on this new show DIG that just premiered in New York. It's kind of exciting because they did 10 episodes and it's kind of like True Detective. They tell a story and you don't know at the end of it who's going to die or if it's going to evolve into another season. They took 10 months to shoot it, so they shot it at the pace of a movie. I feel like audiences now want to sit down and turn something on and not have it last [only] two hours. I watched a movie recently for some of the Oscar stuff and I was like, "Well, yeah keep going, I want to see what happens next, it can't be over."
Apart from Revenge, what else is on your plate?
I filmed a movie earlier in the year, but I'm just doing Revenge right now. We started shooting in July and I'll finish in mid-April. I think after that I'm going to vacation in Minnesota. Nobody ever says that!
Thank you so much for chatting with us! Wishing you all the best and I'm really hoping to see more of David on screen.
Thanks, that's really sweet.
Revenge airs on Sundays at 10 p.m. on ABC. You can follow James at @MrJamesTupper.
~Marriska Fernandes