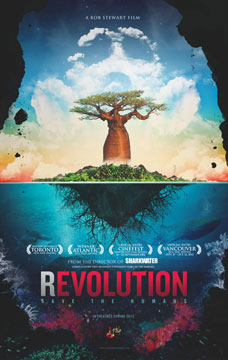 Revolution – Opening April 12, 2013
9 out of 10 stars
Revolution is a movie that is going to make a difference!  When filmmaker and humanitarian Rob Stewart set out to make his first documentary Sharkwater five years ago, he never expected that his life would be completely changed after its release. The film went on to achieve worldwide success and attention and put Stewart on the map and in a class of his own when it came to saving the oceans and the life that exists in it.
Now Rob has spent the last four years working on his latest documentary, Revolution, a hard hitting, powerful and informative look at how we as a human race can save the world. Rob has a lot to say in Revolution, and stops at virtually nothing to get his passionate and important point across. Documentaries are far and plenty these days, especially ones that preach about saving the environment, but when it comes to actually striking a chord with audiences, many of them seem to miss the mark. Our environment is in danger—we know this because we've been told over and over—but how does it affect us, really? Finally, we have an answer thanks to Rob Stewart and Revolution.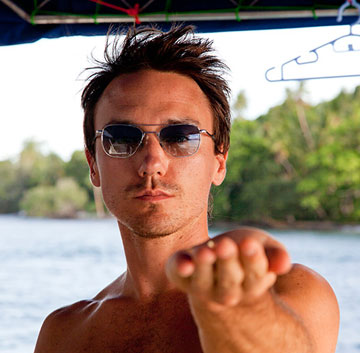 It was while promoting Sharkwater that Rob realized sharks aren't the only creatures at risk of extinction, humans are too, that is unless we step up and do something about it. Environmental documentaries can be tricky because you want to give the cold hard facts without scaring viewers away with science and statistics. Revolution is a call-to-action in the sense that Rob (who is the writer, producer, and star of the film) is trying to engage viewers to help change the world, but that underlying message is masked behind the veil of entertainment. As a viewer, you almost feel like you're just following the story of one guy on an adventure across the globe.
What is most refreshing about Revolution is that it is in no way preachy – Rob is more interested in educating. We're taken to exotic lands and on journeys underwater that are magnificently shot and captivating to watch. There are also scenes that are shocking, grim, even heartbreaking, but it works because before you know it, you've become a part of Stewart's cause and his relentless passion.
Revolution not only shows how real the issues are for this generation, but also that change is very possible and there's no reason it can't be done in this lifetime. Whether you're young or older, an avid environmentalist or still a little green, this is one revolution you're already a part of.  ~Bonnie Laufer