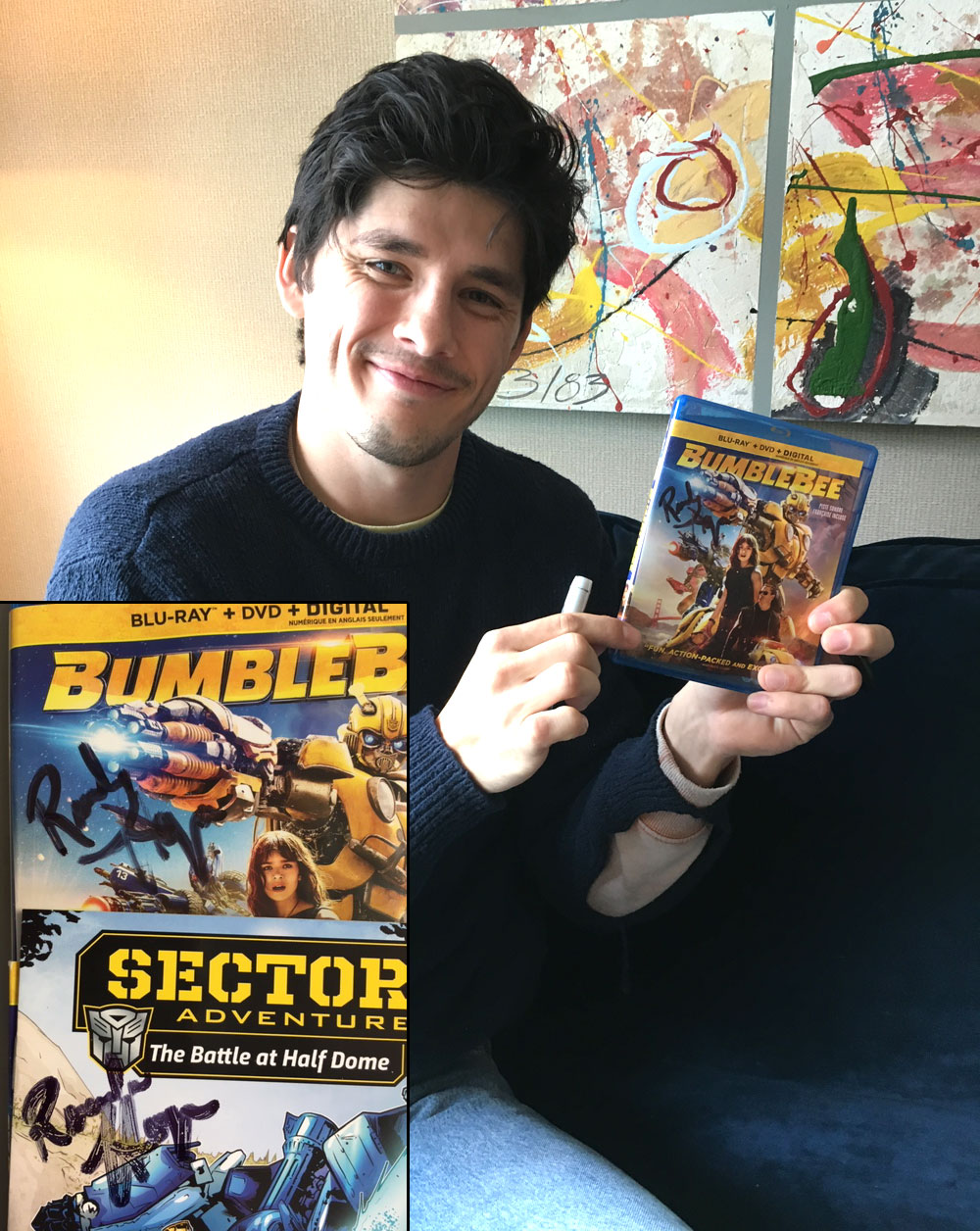 Ricardo Hoyos plays high school hunk Tripp Summers in the Transformers movie Bumblebee, which releases today on Blu-ray and DVD. Ricardo is well-known from his long-running role as Zig on Degrassi: The Next Generation (2012 to 2015), followed by Degrassi: Next Class (2016 to 2018). I chatted with him in Toronto about his role in the film, acting with Hailee Steinfeld, what it was like shooting a scene in which he leaps off a cliff into choppy water, and his music band, Dog Cosmic.
Ricardo was also gracious enough to autograph a copy of the Bumblebee Blu-ray/DVD combo pack and the comic book that comes inside it for one lucky fan to win. Check at the bottom of this interview to see how you can enter to win the autographed combo pack, as well as a DJ Bumblebee action figure with sound and motion (pictured below)! ~Alexandra Heilbron
Great job in this film, I watched you grow up in the role of Zig on Degrassi but the character you play in Bumblebee was so different that I didn't even recognize you, the way you carried yourself as Tripp was so different, he wasn't "Zig-like" at all.
Thank you! That's really great to hear.
Tell me about this character, Tripp, in Bumblebee. How would you describe him?
He's just living his best life. He's on the top of the world at 17 years old, at his peak confidence and comfortability and everything that's going on in his life. So that was really fun to step into, but he's also good-natured at heart. He associates with some of the bullies in the movie, but he's a little different, he's a bird of a different feather.
I got that feeling about him while watching the movie — he's not bullying Charlie, he's teasing her and I thought, even flirting with her a little bit.
Um-hm. Yeah, yeah, and there are actually more scenes that didn't end up making it into the movie, like at the end of it I kind of call out the girls that I've been associating myself with, like "Wow, I see your true colors for who you really are — not cool."
I had a feeling there were more scenes, because in the special features, director Travis Knight talks about a bonfire scene and there's a picture of you with the girls taken in a bowling alley. Those were scenes that were cut?
There's a lot of really good stuff that didn't make it in for all kinds of good reasons, but what they finished with was very strong. My hat's off to them for really executing exactly what they set out to execute. It's just a warm, nostalgic '80s-set movie. It could have been kind of silly, like all these elements coming together could have not translated so well but they really executed very well.
I agree, it's a terrific movie. Tell me your route from Degrassi to Bumblebee. How did you get the role?
After I'd finished on Degrassi, you know, you talk to people, all the actors that I made friends with, and you start to learn more about the industry and what people are thinking and next steps and opportunities, and L.A. is the place to be. That's where everyone is trying to get to, at least for acting and entertainment in general. That is where the opportunity lies. Even if they're filming here in Toronto, they're going to cast out there. So my next step after leaving Degrassi was set on Los Angeles. My dad's American, so I was able to just go, which is really lucky. A lot of my fellow actors from Toronto — it's a difficult process to get a Green Card, or a visa — it's expensive and it takes forever, so I was really lucky to just be able to move out there. And pretty instantly, you notice you're going out for stuff that's big, like wow, I'm going in for Bumblebee now. I only had two auditions for that — first time was just with a casting director and the second audition was with Travis, the director. I don't think I've ever been more comfortable or had a better audition. Right from the get-go, he made me feel so comfortable. We really connected, there was this mutual understanding of the character and the film, and he just really had a clear idea of what he wanted to accomplish and he communicated it really, really succinctly. I remember after leaving the audition, being so jacked up, I ran down the stairs, sprinted to my car and was screaming and stuff and I've never done that before! It went so well and a couple of weeks later I got the call that I was cast in it and I did the same thing, I just sprinted around, right then and there. Really surreal.
The scenery is so beautiful in this movie, especially that cliff scene. How long did it take to film that?
We were probably filming for maybe, a couple of weeks. And yeah, like you said, the geography is just stunning, those mountains. We filmed all down the west coast of California. That particular cliff scene was right outside San Francisco. The physical beauty of California, is just like, some of the most beautiful sights in the world. Those mountains, that ocean, that was so cool and filming on location is always fun, it's like camp or something.
How long did you spend in the water, because it looked kind of choppy and cold out there.
It was freezing cold (laughs). We just did three takes as fast as they could — they were like, we'll get you done. But I ran down the beach to get a sweat going, because it was so cold (laughs). It was kind of funny, even on the cliff it was a very windy, cold day.
What was it like working with Hailee Steinfeld, because you two are about the same age, and you have a similar amount of experience, you both started acting when you were kids.
Yeah, she's incredible, she's got really great instincts, very comfortable and you feed off of that in a scene, for sure. But just very nice, she's very down-to-earth, and a pleasure to work with. It's satisfying to be able to do scenes with someone really switched on like that.
In the special extras you said you were a Transformers fan. Which is your favorite Transformer?
Bumblebee, 100 percent. He was always the coolest one, in my eyes. The underdog, the little guy.
We did an interview with you three years ago and at that time, your dream role was to play Spider-Man. Is that still your dream role?
I was literally asked that in an interview earlier today and I answered Spider-Man. (laughs) It's still Spider-Man but I'll add to that, that I would love to do a period piece where I could play a musician. I'd love to be a Beatle or something, like someone from that era. That was a big excitement for me, even with Bumblebee, to be portraying someone from another era is very exciting for me. To have the opportunity to pretend to be in another era that I wasn't around for is really enticing to me.
Would you do an even older era, like the 1800s?
Hell, yeah. Roll it right back to 80 [AD or BC], even (laughs).
One last question. What can your fans see you in next?
They can see me in my band, Dog Cosmic. I'm working on the debut single, "Let You Inside" right now, it's set to release this month. That's what I spend most of my time working on when I'm not auditioning or working. And Love Daily is a show I did that just premiered on Hulu a couple of weeks ago.
Thank you so much for talking to me today, it's been a pleasure!
Thanks for having me!
Bumblebee is now available on Blu-ray, DVD and Digital. Tell us below which is your favorite Transformers movie for a chance to win and make sure to add your full name in the box provided. Also head on over to our Instagram page (@tributemovies) for an extra chance to win.