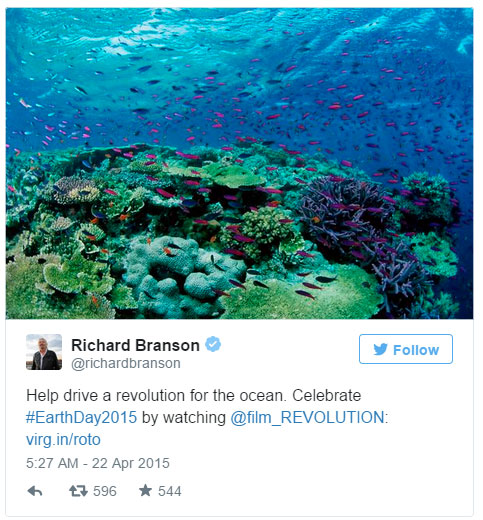 To promote Earth Day this year, Richard Branson and Justin Bieber both tweeted what they'd like their followers to do to support the planet. Branson tweeted: "Help drive a revolution for the ocean. Celebrate #EarthDay2015 by watching @film_REVOLUTION: http://virg.in/roto "
The true-life adventure of Rob Stewart, Revolution is a follow-up to his acclaimed Sharkwater documentary which won 36 international awards. Sharkwater was the catalyst to many countries enacting legislation banning finning or the sale of shark fin products.
Revolution continues his remarkable journey; one that takes him through 15 countries over four years, and where he discovers that it's not only sharks that are in grave danger – it's humanity itself.
Watch Rob Stewart's award-winning movie Revolution to get inspired and find out what you can do to help save our environment. To buy or rent Revolution, click here or the links provided in the tweets.
Bieber wrote in response to Branson's tweet:
Let's help save our oceans and watch this new film Revolution. Thanks for the heads up @richardbranson 🙂 https://t.co/bJgKC9Sut8 — Justin Bieber (@justinbieber) April 22, 2015