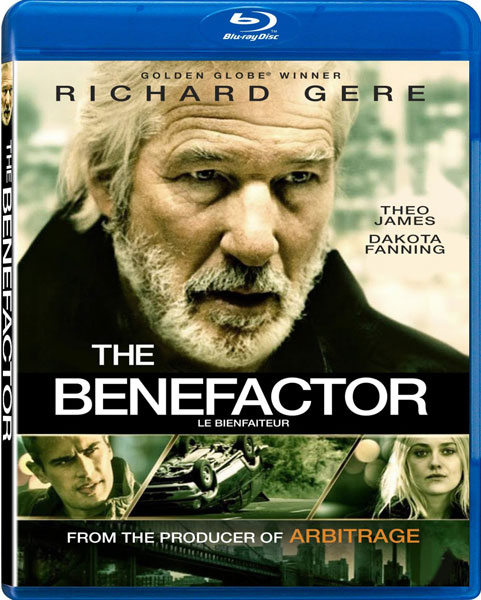 At the beginning of The Benefactor, we witness the playful relationship between Franny (Richard Gere) and married couple Mia (Cheryl Hines) and Bobby (Dylan Baker). Mia and Bobby's daughter, Olivia (Dakota Fanning), is preparing to go to college and Franny, who calls her Poodle, gives her a hug and tells her he'll miss her. The three adults then get in a car. Olivia will never see her parents again. The car they're in is T-boned by a large truck.
The movie jumps ahead five years and we find that miraculously, Franny survived. But not without scars — both physical and emotional — and it's the emotional ones that are killing him. His actions, however innocent, were to blame for the crash. A wealthy philanthropist who doesn't have to work, he hides away in his mansion and survives on painkillers. Out of the blue, he gets a call from Olivia. She's returning to town with her husband, Luke (Theo James), and she's expecting a baby.
Franny has never admitted to anyone that the accident was his fault — especially not Olivia, who was once like a daughter to him. He quickly tries to get himself ready. He has his shoulder length hair cut and has his place cleaned in an effort to hide the fact that he's become a recluse.
When Olivia arrives, he appears to be his old, jovial self. However, his larger-than-life persona immediately gives Luke alarm signals, especially when Franny immediately offers him a job as a doctor at his hospital and pays off Luke's college loan.
It's when Franny buys them the home where Olivia grew up that Luke really starts to question Franny's motives. Olivia has mixed feelings about living in the house, but she tells Luke she doesn't want to disappoint Franny by turning him down.
Richard Gere has the depth and charisma needed to portray Franny — a man who has shut out the world since the accident and mistakenly thinks he can get redemption by buying his way into Olivia's life. Dakota Fanning, who has been keeping a low profile in indie films rather than the blockbusters of her childhood, does a good job, but she's not given much to work with. Luke is also somewhat two-dimensional, which doesn't give Theo James — best known for his role in The Divergent Series — much chance to show off his acting range.
We also don't get much insight into the young couple's relationship — we barely see them interact. When Luke stays out all night, we don't see how Olivia reacts to not knowing where he was or what he was up to. She calls and when he doesn't answer, she leaves a message on his phone telling him she's worried, but we have no idea what happens when he finally turns up. We're left to believe a young, pregnant and hormonal woman was okay with being alone all night and not knowing where her husband was? Without him returning her call or giving her a heads up that he wouldn't be home until morning?
However, Richard Gere's portrayal of what can happen to a man whose life has turned upside down due to one moment that went wrong makes the movie worth it – his performance is layered and detailed. The audience will sympathize with Franny's predicament — it's hard to watch, but it's harder not to watch in order to find out what will happen to this tortured and self-destructive man.
Although there are no special features on the Blu-ray, there are subtitles in both English and French and several previews.