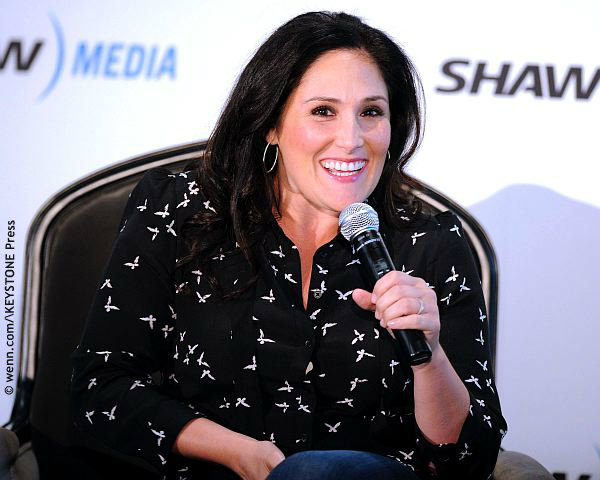 Although Ricki Lake got her start in acting — she debuted as the lead character Tracy Turnblad in John Waters' 1988 comedy film Hairspray — she really made a name for herself when she began hosting her own daytime talk show, Ricki Lake, in 1993. It ran for 11 seasons with over 2000 episodes before coming to an end in 2004. Eight years later, Ricki is ready to return to daytime television with her new series, The Ricki Lake Show, debuting on Global September 10. Here are some highlights of what the star had to say when she was in town to promote the show, which she says is completely different from the old Ricki Lake. She also talks about filling the void left behind by Oprah and her run as a contestant on Dancing with the Stars.
On why she decided to come back to television:
"You know lately I've been all about reinventing myself. I feel like I've gotten out the bucket list and checked a lot of things off."
On whom the new show is targeted towards:
"I think any woman 25 to 50, or older, can relate to any sort of issue whether it's body image issues, aging, having children, finding love, staying in an unhappy marriage — all these life experiences I've had over the years. I think it's what makes me relatable to people."
On her celebrity status:
"My kind of celebrity is different than other people I think. Unlike movie stars who are sort of not approachable, people feel like they know me. Particularly Dancing with the Stars, that was an amazing chance for me to come back into people's living rooms and for people to see where I'm at in my life and go on this journey with me and support and rally and vote for me. It was amazing and I'm really touched and humbled by the fact that people want to interact with me."
On being a contestant on Dancing with the Stars:
"I kicked ass. I didn't win, I didn't get the Mirror Ball, but I feel like I was a winner for women who aren't skinny, who aren't the unattainable supermodel. I think everyone relates and wants to be in my shoes so I feel very, very lucky to have them."
On what we can expect from The Ricki Lake Show:
"It's kind of like the old Oprah show, before she was a billionaire, before she had the book club. To the point where she changed from being in the audience where you felt like she was one of us to where she was on stage and was sort of like decoration. We want it to feel like it's an included conversation. I want the audience involved; there'll be the spontaneity and probably the energy of my old show, or the upgraded version of my old show. I've grown up, I've changed, I've evolved and that's what the show will be.
"There seems to be a gap right now — women miss that dialogue and that relationship and they'll be able to have that again and have that comfort zone. I really want to have a home where women feel like they're going to be heard, that they're going to hear from people who are like them, they'll get help in their own lives and have a lot of fun at the same time. As a viewer, I missed Oprah and it's a responsibility to have elevated, smart television out there."
On bringing back some of the old Ricki Lake:
"I don't know, we'll see. Obviously I'm very much the same person, I've just grown up a lot, fortunately/unfortunately, and the audience that grew up watching me has grown up too. You know, they're not raving teenagers and trying to figure it all out. So I think there will be elements of the old show that we'll try to capture and do again but also, it's new territory. I think we have the chance to break the mold a little bit from what we've done and I want to surprise people, I want to show people I have more to say than just laugh and laugh. Hoochie mama makeovers only go so far."
On her most challenge interview:
"I had this gentleman on named Reverend Fred Phelps and he's this horrible anti-gay activist. He was so awful to me. It was my first season, I was 24 and he said to me, I'll never forget it, "You worship your rectum," because I'm friends with gays and I support the gay cultural lifestyle. And he was shouting these proverbs at me and I didn't know what to do and I said to him, "You may be a reverend but this is still my show. Get off of my show!"