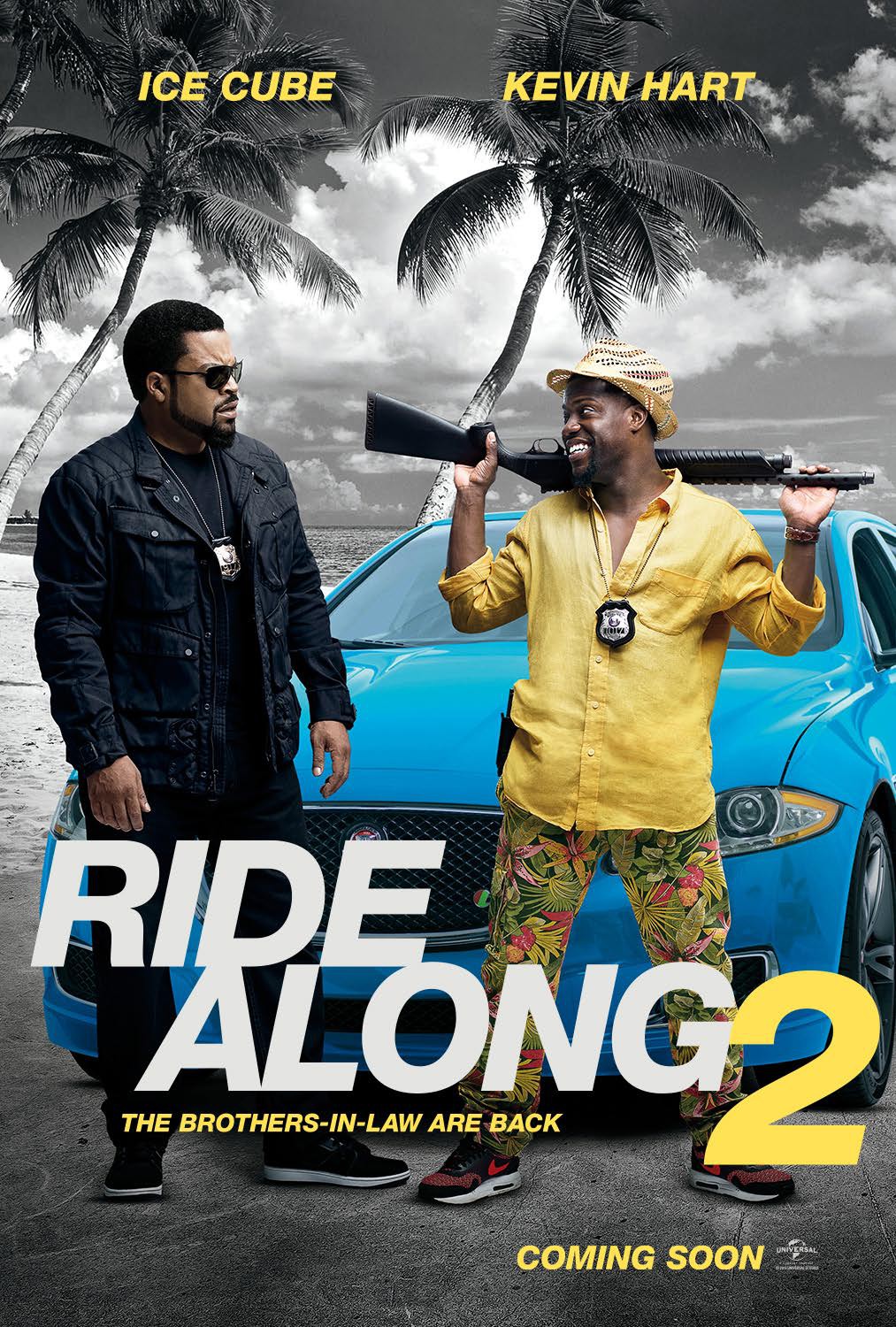 New trailers this week include Ride Along 2, the sequel to last year's action/comedy hit starring Ice Cube and Kevin Hart, action flick Hitman: Agent 47 and the Angelina Jolie-directed drama starring her and Brad Pitt in By the Sea.  Other anticipated film trailers to watch are the dark comedy Addicted to Fresno and the transgender drama About Ray starring Elle Fanning. Take a look at all of this week's new trailers below.  -Maria-Josee Martinez
1. Ride Along 2
3. By the Sea
5. About Ray
7. Wolf Totem
8. Trumbo
Ride Along 2 – New police academy graduate Ben (Kevin Hart) tags along from Atlanta to Miami with James (Ice Cube) to track down a fugitive criminal (Ken Jeong) just hours before Ben's wedding to James' sister.
Hitman: Agent 47 – An elite assassin (Rupert Friend) was genetically engineered from conception to be the perfect killing machine, and is known only by the last two digits on the barcode tattooed on the back of his neck. He is the culmination of decades of research—and forty-six earlier Agent clones—endowing him with unprecedented strength, speed, stamina and intelligence. His latest target is a mega-corporation that plans to unlock the secret of Agent 47's past to create an army of killers whose powers surpass even his own.
By the Sea – In 1970s France, former dancer Vanessa (Angelina Jolie) and her American husband Roland (Brad Pitt), a writer, travel together across the country. The two seem to be growing apart, but when they stay for awhile in one quiet, seaside town, they form friendships with some of the more vibrant inhabitants, such as a local bar/café-keeper and a hotel owner.
Addicted to Fresno – Shannon (Judy Greer) is a former sex addict who was forced to go to rehab after her addiction cost her her job.  She moves in with her sister Martha (Natasha Lyonne) and gets a job cleaning hotels.  One day on the job, Shannon accidentally kills one of the hotel guests and asks Martha to help her dispose of the body.
About Ray – Ramone (Elle Fanning) is a young teenager who wants to transition to a boy and change her name to Ray.  Her mother (Naomi Watts), grandmother (Susan Sarandon) and even her estranged father (Tate Donovan) struggle to come to terms with this fact.
The Hateful Eight – Years after the civil war, eight westerners seek refuge in a stagecoach shelter on  the snowy mountains during a blizzard in Wyoming.
Wolf Totem – In 1967, a young Chinese student is sent to northern China to teach nomadic children Chinese.  Instead, he learns about who they are, their culture and the special relationship they have with wolves.  He stumbles upon them and raises a cub to study their behaviour and bond with the nomad shepherds, leading to a threat by the government.
Trumbo – Dalton Trumbo (Bryan Cranston) is a successful Hollywood writer in the 1940s.  However, his career is crushed when other Hollywood figures are being blacklisted for political beliefs. The movie tells the story of his fight against the government and studio bosses over a war of words, targeting well-known Hollywood actors of the era.
Mistress America – A young college freshman Tracy (Lola Kirke) is experiencing a lonely life in university.  However, things turn around when her soon-to-be stepsister Brooke (Greta Gerwig) takes Tracy on an adventure in New York City and gets her involved in her mad schemes.
Jem and the Holograms – Based on the 1980s animated TV series, Jem and the Holograms tells the story of Jem, who becomes an online singing sensation with her friends called Jem and the Holograms.  Together, they set out on a musical hunt around Los Angeles to find a final message for Jem from her father.