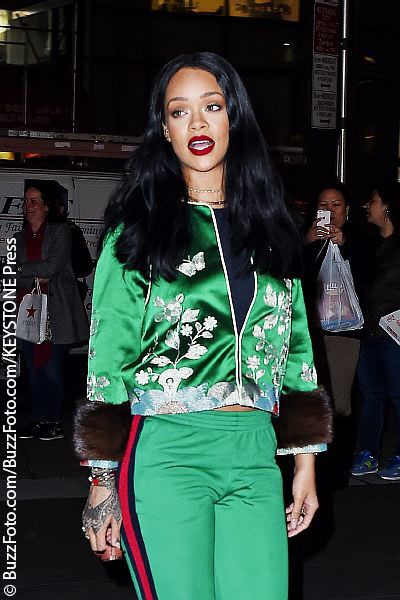 Take a bow, a breath, or maybe a tissue, Rihanna.
The Barbadian beauty was performing in Dublin on Tuesday when she was suddenly overwhelmed with emotion. She was supposed to start at 8:45 p.m., but kept fans waiting until 9:15 p.m.
According to fans, she seemed upset while singing her first song, "Stay," and then during her hit track "Love the Way You Lie," tears streamed down her face as the audience sang along with her.
During the show, a moved Rihanna said, "I only have ever in my life heard an audience of people scream so loud that they sound like one voice and that only happens in Ireland, in Dublin… Thank you so much."
The 28-year-old Grammy winner struggled to regain composure after her rare display of emotion.
Fans at the Aviva Stadium were concerned to see the "Work" and "Diamonds" singer break down, and wondered if her late arrival to the stage was linked to her tears.
Click on the first Instagram post below to watch one concert-goer's footage of Rihanna's Dublin sob, then scroll down to see what some fans said about it on Twitter.
Do you think there's an underlying reason for the "Disturbia" songstress' teary show? Share your thoughts with us!
She broke my heart when she cried @rihanna #Dublin #ANTIWorldTour pic.twitter.com/KIbMA78gPs

— Oğuzhan Şen (@ogzhnsen) June 22, 2016
Rihanna started crying in LTWYL she barely got through the song😩i think its cos she was overwhelmed by the reaction we were cheering so much — Noel Fenty (@KissItBettaNavy) June 22, 2016
If rihanna is crying i'm crying you're crying everybody is crying

— théa (@Iastvegas) June 21, 2016
Our sis is crying on stage. Those better be happy tears because we all know it's "protect Rihanna at all costs" pic.twitter.com/8qTfnZJ60t — Ebba (@illestbaba) June 21, 2016