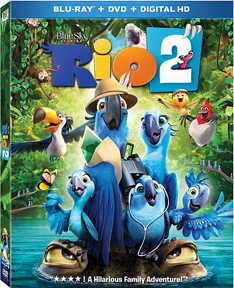 Rio 2 follows the adventures of Blu, Jewel and their three children, as well as their humans, Linda and Tulio, who have gotten married. When Jewel sees a report on TV about another rare spix's macaw having been spotted in the Amazon, she wants to take the entire family there to search for the bird. Domesticated Blu, who's not used to the wilderness, would rather stay home, but Jewel talks him into it and they set off on an adventure.
Meanwhile, Linda and Tulio are on an expedition to find the macaws as well, but they get into trouble when they run into an illegal logging camp. Blu's nemesis, Nigel the cockatoo, having survived the plane crash from the first film, also returns in this sequel. When he eyes Blu and his family flying overhead, he decides to get revenge on them, with the help of an adorable poison dart frog named Gabi.
In the Amazon, Blu and Jewel find her father and Jewel's friend from childhood, Roberto, as well as other members of her family. They also bump into Linda and Tulio and give them a hand. There's a very funny soccer match played by two rival flocks of birds, and some great songs (courtesy of Bruno Mars, who plays Roberto, Anne Hathaway as Jewel and Kristin Chenoweth who plays Gabi).
Special features on the home release include almost 90 minutes of bonus features, with two downloadable bonus songs from the soundtrack. Other movies out on home release today include: 9 Month Stretch, Bethlehem and The Face of Love. Click here for a full list of DVD releases.