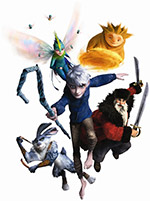 In this feature for director Peter Ramsay's 3D animated film Rise of the Guardians, we not only get a sneak peak of the Guardian Santa, aka 'North', but also a detailed lesson in the history of this classic children's story character. The Santa in Rise of the Guardians is a burly, sword wielding man with tattoos and a heart of gold who protects the dreams of children all year round. Rise of the Guardian's hits theatres on November 21.
When an evil spirit known as Pitch the Bogeyman (Jude Law) tries to take over the world by inspiring fear in the hearts of children, the immortal Guardians, aka heroes from different childhood stories—Jack Frost (Chris Pine), Easter Bunny (Hugh Jackman), Tooth Fairy (Isla Fisher), Sandman and Santa Claus (Alec Baldwin)—must join forces for the first time to protect the hopes, beliefs and imagination of children all over the world.
Based on William Joyce's book The Guardians of Childhood.