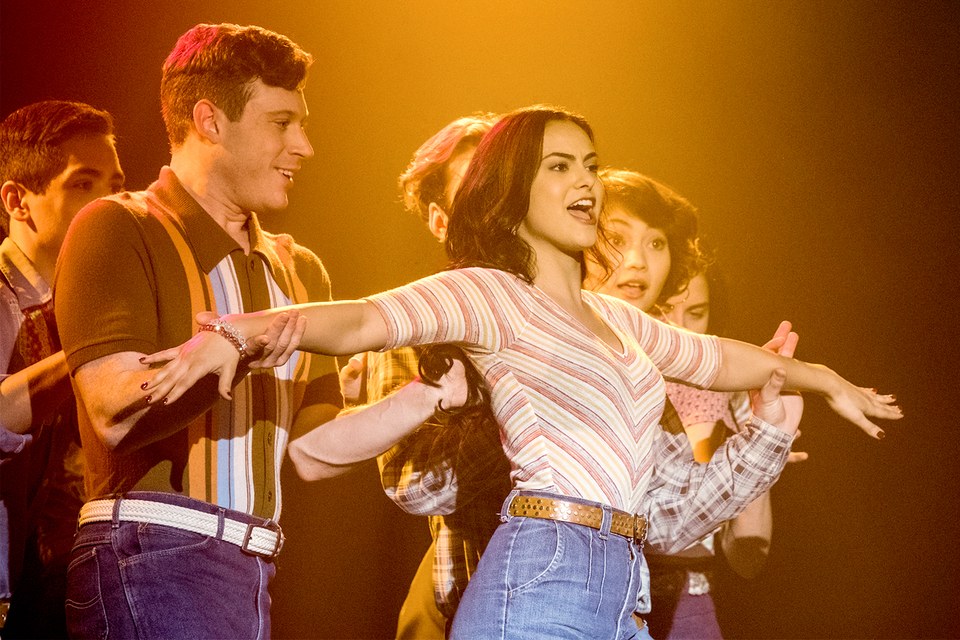 The wait is over. Riverdale is back!
This week's episode was aptly titled "A Night To Remember." Fans of Glee and High School Musical rejoice: the entire episode is a musical!
Our plucky young heroes have decided to take a break from investigating murder mysteries to put on a production of Carrie: The Musical.
You got Archie (KJ Apa) and Betty (Lili Reinhart) playing naive lovers Tommy and Sue. Veronica (Camila Mendes) playing the villain Chris, Cheryl (Madalene Petsch) as Carrie (obvi) and Jughead (Cole Sprouse) as the documentarian.
It's a shame we didn't get to hear Jughead sing, but I'm most disappointed we didn't get to hear Hiram (Mark Consuelos) singing an evil minor key villain song.
There's a lot of tension in the cast. Betty is still upset with Veronica over the secrets she kept from her, Josie is (rightfully!) still creeped out at Cheryl's infatuation, Hiram and Fred (Luke Perry) are fighting for Archie's favor, and Chuck has joined the cast to redeem himself after his #metoo conduct last season.
Vocally, there's a heavy amount of pitch correction, making this week's episode feel truly reminiscent of Glee. As always, Lili Reinhart never ceases to amaze. She was this week's best singer.
A lot of loose ends were tied up this episode, but our gang was out of the frying pan and into the fire. The Black Hood, or someone claiming to be him, is back.
I know I keep harping on this, but I'm really glad the kids are starting to patch things up to fight the common enemy, that is, the Black Hood. The problem with a lot of television series is that each episode needs conflict, but the conflict often feels forced. How many times have you watched a show and rolled your eyes when a character overreacted?
Season 2 had an indelible lull when the Black Hood supposedly "died." I'm just glad the forced conflict is done and our leads can work together to defeat the Black Hood once and for all.
Perhaps my biggest gripe with this week's episode is that the experience of putting on a musical should have been a joyous experience for the kids. The fact that the musical wasn't much more than a plot device makes the episode feel more like a ratings grab than a genuine homage to musical theater.
The Black Hood's identity is still nebulous, so be sure to share your prediction in the comments. ~Yanis Khamsi