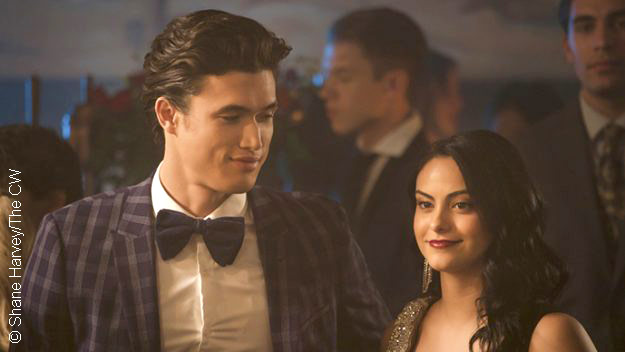 Spoilers Below!
"Who is this for?"
That's one of the number one questions asked in any development meeting for a product. It was also what I asked myself watching this week's episode of Riverdale.
Archie (KJ Apa) is in exile with his dog Vegas. The two share a cabin in the Canadian wilderness, where Archie is a ranger.
Poor Archie gets mauled by a bear, but manages to narrowly escape. While back at his cabin and awaiting help from the other rangers, Archie begins to hallucinate.
He imagines himself killing the Black Hood, and then imagines himself stabbing Hiram (Mark Consuelos) to death. He then imagines himself killing… himself.
Wow.
Betty (Lili Reinhart) is harboring refugees who were imprisoned by idolatrous nuns. Jughead (Cole Sprouse) wants the Southside Serpents to be clean and not sell drugs anymore. Cheryl and Toni are kleptomaniacs.
Wow.
Uh… Ok. *inhales deeply.
So the whole initial appeal of Riverdale was "OK, so a CW show about Archie characters is a sound financial investment because of brand recognition, but let's update it by making it darker and grittier." And lo and behold, season one was a success. It was a high school show about football, music and cheerleaders. It was about love, sex, parties, and friendships.
For the love of all that is good in this world, why did the writers not understand this was what the fans loved?
Archie LITERALLY said, "I haven't touched my guitar in forever" in this week's episode. You know what else hasn't been touched in forever? Veronica (Camila Mendes)! That's why she cheated on Archie with Reggie (Charles Melton) in this week's episode.
In season one, that would have been the biggest scandal of the episode. That would have been enough. Not some creepy cult suicide involving blue Kool-Aid and a bunch of dead nuns.
I hailed the prison break episode, but only because I thought it was a return to form. I'm so disappointed.
In 2016, there was a pop-up diner sanctioned by The CW in Toronto. It was a mock set of "Pop's Diner" that served milkshakes. This one-night only event had a line going around the block. It was deeply moving to see hundreds of people shared my love of Riverdale.
We weren't necessarily enamored with what the show had done, but with where it could go. Now look where we are.
Veronica cheated on Archie with Reggie, and it didn't phase me. Why would it? The show made it clear that the Gargoyle King is the biggest threat.
Come on, seriously?! Those in charge of a show made for teenage girls really thought a love triangle should play second fiddle to a Dungeons and Dragons style suicide cult?
"But, but Stranger Things balances love and the supernatural."
NO!
Stranger Things is a coming-of-age story that puts ALL of its emphasis on character arcs.
Stranger Things is paced in such a way that entire episodes can go by with not much happening in terms of plot without losing any momentum. The kids are growing together, and that's what we tune in for.
The highlight of Stranger Things season two, even with all of its supernatural woo-woo, was an adorably awkward slow dance between two pre-teens.
If Riverdale can pulls itself out of the hole it's written itself into, great. If not, I guess Riverdale will go the way of disco. We'll all look back on it in 20 years and say to ourselves "what was I thinking?!"
Now that I look back on it, the milkshakes at the pop-up diner weren't that great. ~Yanis Khamsi