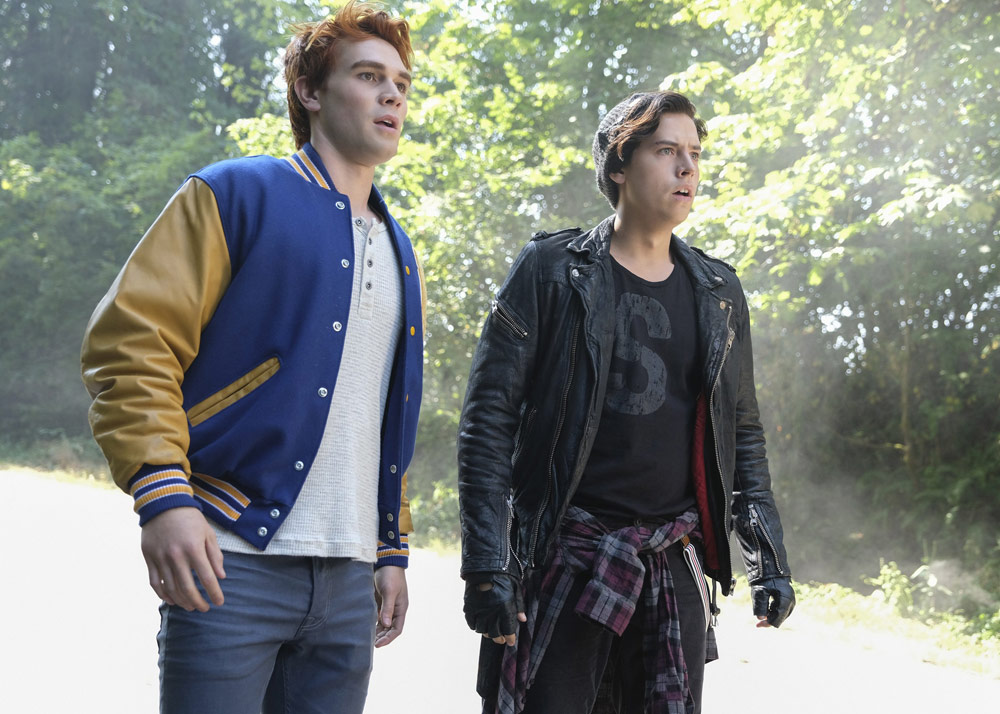 Welcome to Riverdale Recourse, a spoiler free place to discuss Netflix's favorite high school teens. Let's dive into this week's special at Pop's: The Hills Have Eyes.
Hiram Lodge (Mark Consuelos) encourages his mija Veronica (Camila Mendes) to take her boyfriend Archie Andrews (KJ Apa) to the aptly named "Lodge Lodge" for the weekend. Hiram wants "Bughead" — Betty Cooper (Lili Reinhart) and Jughead Jones (Cole Sprouse) — to come along as well.
The necessity of this episode in the middle of such a plot heavy season cannot be overstated. The precious few scenes where "Bughead" and uh… "Varchie?," can just be kids hanging out have been sorely lacking.
Season one's success wasn't because of the novelty of a "dark" Archie Comics adaptation. It was because of the chemistry between our four leads. The way these kids played off each other, while working together to solve the Blossom murder mystery, kept fans hungrier for new episodes than Jughead's appetite for hamburgers.
The quintessence of what makes Riverdale great is the scene in this week's episode where the gang is seated in the lobby of Riverdale High, making plans for their weekend escape at the Lodge Lodge.
These kids are our avatars. When we see them having fun, we have fun. When we have fun with these characters, they somehow feel more three dimensional, making this episode's climax all the more suspenseful. I found myself wanting to shout "leave my friends alone!" at my screen.
If this show can continue making Riverdale High, Pop's Diner, and just living in Riverdale, feel like a joyous experience, it will make the show's darkness feel that much darker, and the moments of levity that much brighter.
I for one am dying to see an episode that takes place in an alternate reality where the characters all look and act like they did in the original comics. How hilarious would that be? Maybe the whole thing can be a Jughead fever dream? This would be a memorable moment of levity right before the season reaches critical mass and we find out who the Black Hood really is.
I also think Riverdale has been sorely lacking in the Reggie department. He could not only serve as comic relief, but he could also be a friend to Archie and even Jughead; helping the audience better understand our two leads. Reggie can serve as eye candy, as well as a romantic interest, for the show's other characters; helping us relate to them better.
Confession: I never liked Homer's Odyssey. Why? Because the story is about a man who spends decades trying to get home to his wife and kids while facing constant setbacks. But just because our hero is subjected to failure and disappointment, it doesn't make the audience automatically on his side.
Our protagonists have to feel likable and relatable. While Reggie, Cheryl, Chic, and most of the grownups need work in this department, our four leads are doing great.
Keep up the good work Riverdale. ~Yanis Khamsi