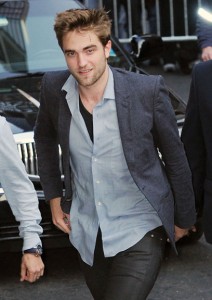 Twilight star Robert Pattinson may seem brooding and aloof but the star knows exactly what he wants.
Recently, the Breaking Dawn – Part 1 star admitted to David Letterman that it was not so much the artistic aspect led him to acting but the fact that he could potentially get more dates.
"I wanted to meet girls!" the 25-year-old Breaking Dawn star said on The Late Show with David Letterman. "That was the main thing."
Although the 25-year-old British actor has gained a huge fan base with the Twilight Saga, he ended up getting something more out of it: a relationship with his co-star Kristen Stewart. But that still doesn't stop the adoring fans that swarm him. "It's not just teenage girls," he told Letterman. "It's older [women] too. The older ones are far more passionate fans," he said. "It's funny how the whole genre has changed since Twilight came out," he said. "Now vampires are considered attractive and sexy!"
As the anticipation for the release of The Twilight Saga: Breaking Dawn – Part 1 nears, Pattinson and most of his co-stars are gearing up for the end.
So what exactly is Pattinson's plan for a future after Twilight? "Just staying employed in one form or another is enough for me!" he joked.
Click to watch exclusive interviews with Robert Pattinson, Kristen Stewart, Taylor Lautner, Ashley Greene and Jackson Rathbone and Nikki Reed.